DUNWOODY, Ga. — Chants of "Black lives matter!" and "What do we want? Justice!" mixed with a cacophonous chorus of car horns along Ashford Dunwoody Road on Tuesday, June 2.
A line of several hundred protesters started in front of City Hall and stretched two blocks south to Meadow Lane. The crowd was a mix of all races, though noticeably skewed younger. Their signs called for an end to racism and read the names of victims of police violence: Eric Gardner, Michael Brown, Breonna Taylor, George Floyd.
Floyd died May 25 in Minneapolis when then police officer Derek Chauvin pressed his knee against Floyd's neck for eight minutes, as captured on video. Chauvin has been charged with third-degree murder and second-degree manslaughter. Three other officers involved in the death have been fired and charged with abetting second-degree murder.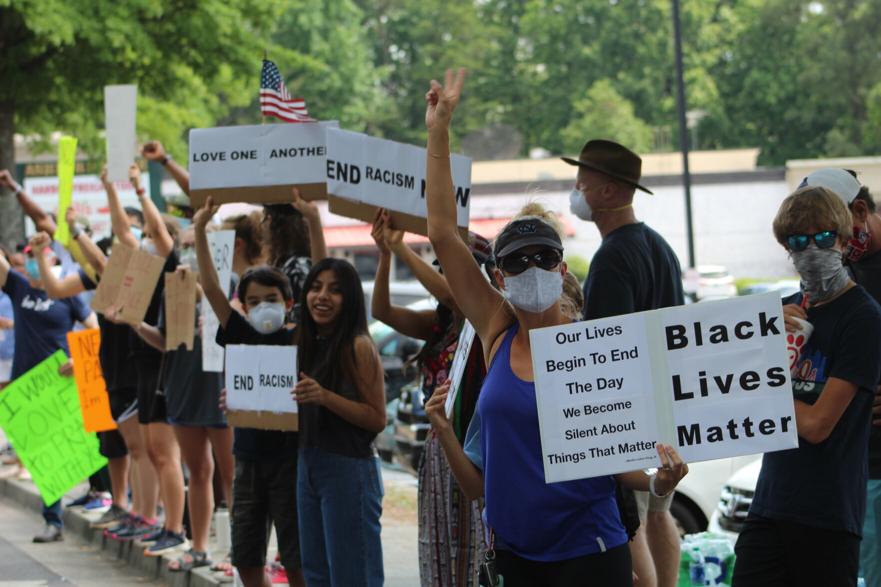 Protests erupted across the county over the following weekend, largely peaceful but with instances of looting and rioting in some cities including Atlanta. Dunwoody's June 2 protests ran from around 8 a.m. to 4:30 p.m. without violence, vandalism or arrests.
"I walked up and down that line making sure nobody was standing in the street, making sure nobody was using profanity in front of the kids, making sure everybody stayed hydrated, making sure everybody was being respectful to the police," protest organizer Lydia Singleton said. "It was a lot of work, but we need leaders, so I appointed myself to be one."
Singleton is a musician, makeup artist and activist who grew up in Dunwoody and now lives in Doraville. She said she was motivated to organize the protest by her faith and her experiences growing up in Dunwoody.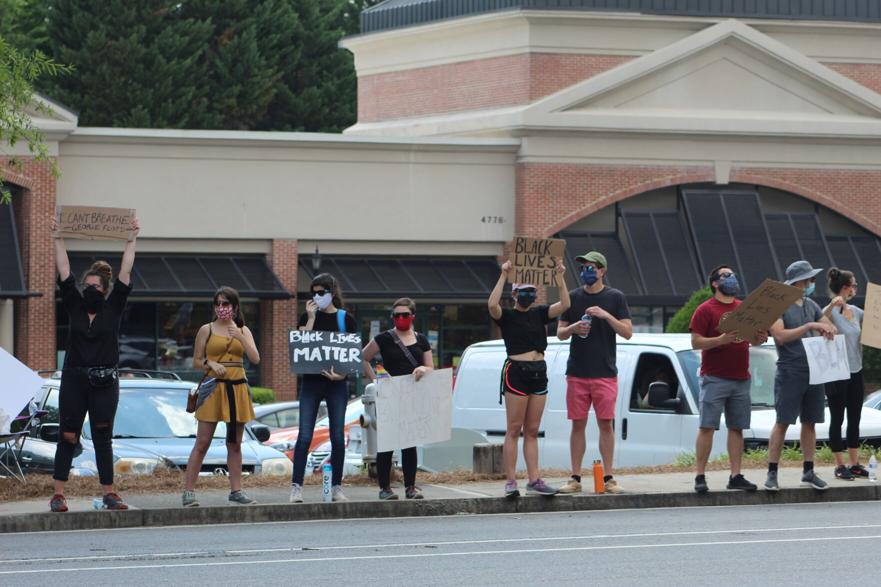 "I experienced so much racism and prejudice growing up," she said. "It just hung so heavy in the air in Dunwoody that it's hard to think back on good memories of my childhood. We got it from everywhere: the kids at school, the teachers, the principals, police officers, the people that I worked for."
Singleton said she could recall incidents of neighbors calling police on her family just for walking around their subdivision or waiting at a bus stop. Incidents like these made her childhood traumatic, she said, but she is working to turn the pain into a positive force for change.
"God's love calls us to forgive," she said. "You have to forgive and heal in order to be a catalyst for change."
Earlier this year, Singleton worked with Dunwoody Police to organize a community seminar that answered questions like how to behave in a traffic stop and what to do if you are racially profiled. She said her relationship with the city's police officers laid the groundwork for ensuring Tuesday's protest remained peaceful.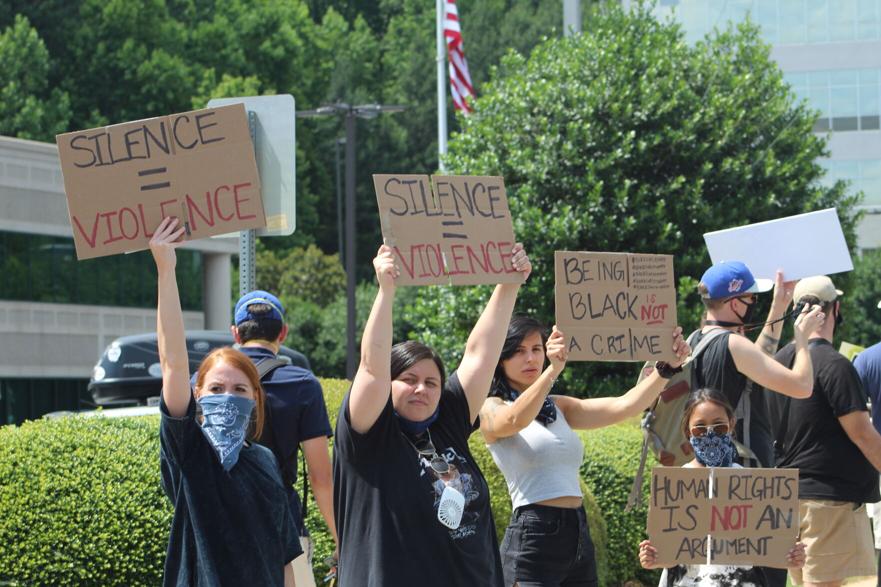 While some police departments have responded with riot gear, tear gas and rubber bullets, there was none of that in Dunwoody on Tuesday afternoon. Dunwoody Police Chief Billy Grogan issued a statement saying he stands with the protesters and condemns the actions of the officers involved in Floyd's death.
"Officers from our department have interacted with the organizers and protesters to let them know we stand with them against police brutality and racism in any form," Grogan stated
Grogan's statement also listed steps his department has taken to prevent similar incidents from happening in Dunwoody, including body cameras, car cameras, reviews of every use-of-force incident, a use-of-force policy based on best practices, and annual de-escalation training.
In 2019, Dunwoody Police officers had 103 uses of force in 70 different incidents, or 3.13 percent of the 2,201 arrests made that year.
While Dunwoody has taken several steps recommended by policy experts to reduce police violence, nationwide police killings have increased in suburban areas since 2013, according to a study by FiveThirtyEight.
Singleton said it was important to bring the movement to the suburbs, and that she has received calls from many looking to host a demonstration in their own city. The state capital may be downtown, she said, but in addition to changing the laws, you have to change the hearts of parents and teachers who are raising future generations. 
GALLERY: Hundreds wave signs reading "black lives matter" and other calls for justice.
"Racism is deeply rooted," Singleton said. "It is going to take more than a month to get rid of this. It's going to take years … I am hoping for change and I am praying for new leadership, people who love black lives, who love people of color, and who are going to teach the next generation to love and not hate."
While Tuesday's protests were peaceful, Dunwoody Police have issued warnings asking residents to stay at home at night and avoid areas that may be targets for looters, such as Perimeter Mall.
"While I applaud the peaceful protesters standing outside our department today, I must condemn those looters and rioters who are using the tragic death of George Floyd as an opportunity to wreak havoc in many communities across our country," Grogan said. "The destruction and burning of buildings, the looting of property and the violence against the police and innocent civilians must stop."
Singleton said she understands how protesters can become violent, but that is why positive leadership is so needed.
"In order for us to be able to keep doing these protests, keep raising awareness, keep showing up for black lives, we have to be safe and healthy," she said. "We can't get arrested. We have to do things by the letter of the law. We have to be smarter."