DUNWOODY, Ga. — For months, eerie quiet filled the high pine and sweetgum-lined paths along Brook Run Dog Park. 
That changed June 1 when Dunwoody city leaders opened the gates to the popular grounds. Today, sporadic barks and occasional scolding accompany the bird songs and rustling of squirrels in the brush.
"When the dog park closed it was like you cut off people's arms," said Laine Sweezey, president of the Brook Run Dog Park Association.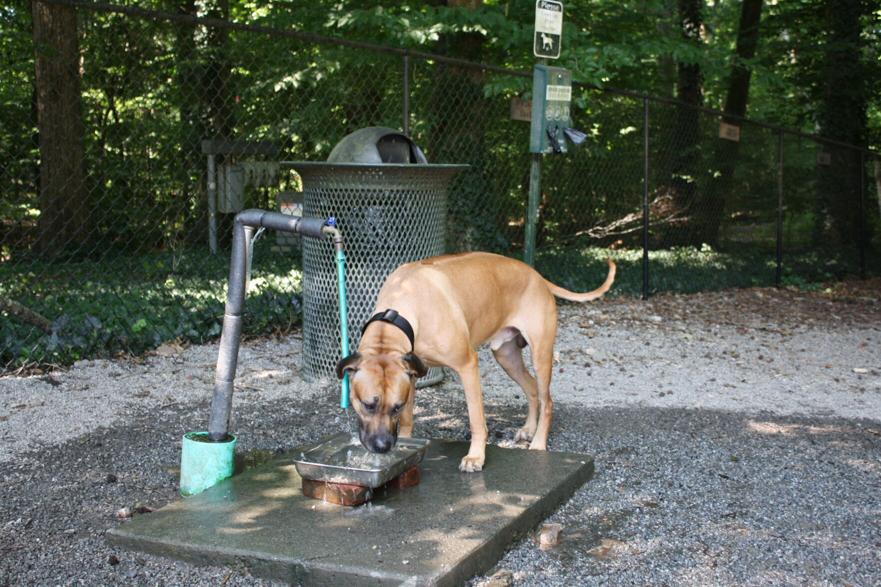 Until now, she said people have been allowed to go to the bowling alley or get a tattoo, but the dog park was off limits. 
While the coronavirus pandemic has left few untouched, dog owners have dealt with their own anxieties. Owners and their pups have spent an increasing amount of time together with fewer places to go.
As the initial wave of the coronavirus began in March, public facilities began shuttering. On March 19, the City of Dunwoody announced the temporary closing of playgrounds and restrooms at Brook Run Park. The next round of closings included the dog park. That order remained until the first of June, a day Sweeney celebrated.
"Heavens yes!," she said.
The Brook Run Dog Park is a 2-acre fenced area, with separate space for large and small dogs. A large dog exceeds 25 pounds.
Ann Podber and her golden doodle, Ellie May, visit the park as part of their daily routine because there is "more community here than other dog parks." She said a vet warned about unknown risks, but she said she felt safe keeping distance from other people.
Lavar Edwards and his Rhodesian ridgeback, Mellow, visit the park two times a week and have grown closer during the pandemic. He said Mellow whines when he leaves to go to the store, but seems happy the park is back open.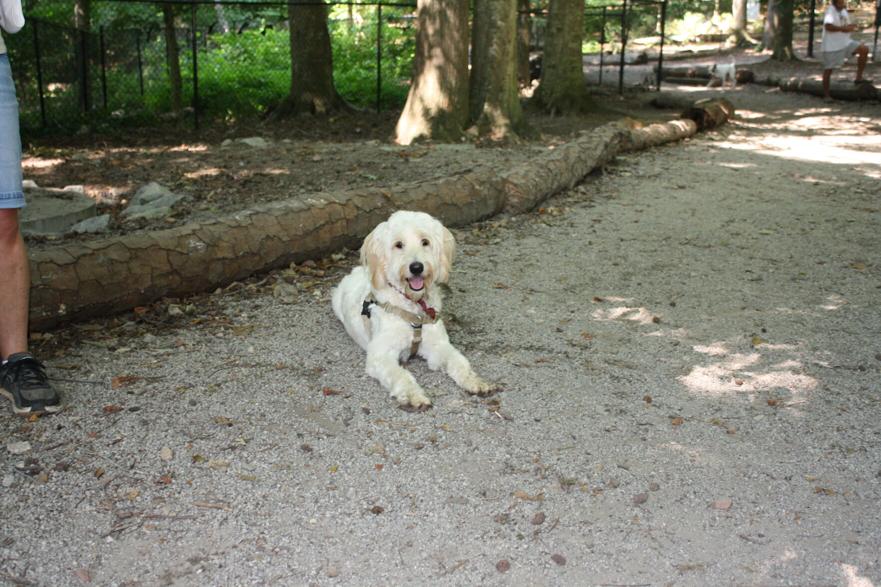 Elizabeth Lamback and her terrier, Wesley, visited the dog park recently for the first time. She has "loved being at home," but she is not sure how Wesley will adjust when she returns to work. He was nearby investigating the new territory, but he stopped for a photo. Lamback said she felt safe being outside, but she had a mask in case the park was crowded.
With the looming presence of the coronavirus, one major concern is the ability to maintain social distance at Brook Run Park. While walking trails can get crowded, dog park visitors seem to govern themselves.
"So far, the dog park community has done a very good job of maintaining social distance," Dunwoody Parks and Recreation Director Brent Walker said. "They understand the value of the dog park and will do whatever is necessary to ensure that it can stay open." he said.