NORTH METRO ATLANTA — Troy Matthews says he's no different from almost all restaurant owners, forced to find more ways to do business and keep his eateries afloat. Matthews is the owner of two Freshii locations, in Crabapple and in midtown Atlanta. Both have seen sharp revenue declines COVID-19.
"It has really forced us to shift how we are doing things as a business," Matthews said. "Folks are just not coming in. We do support the grab-and-go model and take-out, but taking away the traffic coming in, even just for a quick bite or to pick something up, almost 50 percent of our business has gone down."
That figure is for the Avalon location, which is faring better than the Midtown location that is surrounded by now mostly empty office buildings.
While restaurants are now permitted to offer dine-in services, Matthews said his stores are still operating for takeout only. Though third-party delivery services like Uber Eats and DoorDash help bring in some revenue, Matthews said it is a love-hate relationship.
"They bring a lot as far as the service they provide and marketing, but the hate part comes from them taking a big chunk of that revenue," he said. "Most people don't realize that some take almost 20 to 30 percent of those gross sales. It puts pressure on our margins. And we have higher margins because of food costs, than say, a pizza place."
Some delivery services lowered the percentage of sales they earn from deliveries in the initial stages of the pandemic, but Matthews said those percentages have been rising.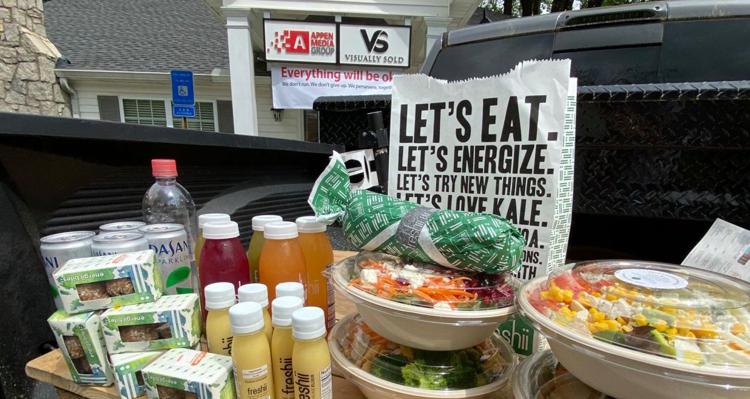 "We even have corporate lobbying on our behalf to work out a deal, so my heart goes out to these smaller restaurants who don't have that support," he said.
There are positives, however, to the coronavirus situation related to Freshii, which focuses on providing fast-casual healthy foods for better overall nutrition.
"The positive side is that I'm hoping this will lead to heightened awareness of eating better to improve overall wellness," Matthews said. "What has been coming out of the data is that those who have underlying conditions, such as high cholesterol, are more at risk, and that can be attributed to what we are feeding our systems. There is added importance on eating those things that will not make us susceptible to virus or disease."
Another positive impact is the affirmation of the area's sense of community, Matthews said.
"We have seen a tremendous amount of support from the community," he said. "It has been heartwarming to see people we have sponsored coming to us and asking how they can help. It gives us such joy when you see Milton High School, the football team, baseball team, softball team and chorus, all trying to support us. It is unique to Milton and unique to our sense of community and sense of family."
Matthews said the more successful his business is, the more they want to give back. Customers can purchase meals through to the Alpharetta Freshii website to be donated to local frontline healthcare workers.
Despite the financial crunch from the pandemic, Matthews said he believes his business and the community will benefit.
"I am confident we will get through this and be stronger coming out of it," he said.