FORSYTH COUNTY, Ga. — Many people are now working from home as employers try to reduce the spread of COVID-19. Not many off-site employees, however, are considering the ramifications of their curbside trash. 
Red Oak Sanitation, service provider for thousands of Forsyth County customers, implemented precautionary measures.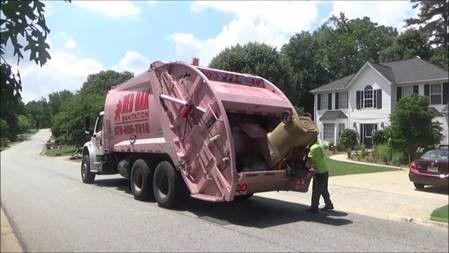 Red Oak services over 30,000 residential customer per day. This scale of contact carries risk and responsibility.
"The sanitation industry is on the front line as it handles, transports and disposes of the waste from every individual," Red Oak spokesman Tim Citrone said.
Each individual has their own standards of hygiene and at times like this, it exposes the sanitation employee to the high risk of contracting and spreading any virus if proper procedures are not followed, Citrone said.
The Gainesville, Ga.-based company shared its protocol for best practices to keep employees and customers safe.
The company issued a statement last week saying the protocols are designed to limit common surface contact with the virus, and eliminate spreading it from customer to employee, and from employee to customer.
"No one wants to be staring into a reality where there are no longer any sanitation workers healthy enough to provide waste removal," the statement said. "Sanitation is one of the few necessary services that must remain operational to help avoid further public health concerns, particularly with summer's fast approach."
Staff will not pick up loose trash, bags, bulk items, boxes or recycling that are outside of containers. Yard waste will not be picked up, either.
The company strongly suggests all trash and recycling be put in bags and tied before placing in the carts to eliminate loose debris being left in containers or on the ground. The company is also asking each resident spray to disinfect their trash containers before handling them once emptied, Citrone said.
Additional containers are available at 770-536-7868.
"Red Oak is so incredibly grateful for the outpouring of overwhelming support by our many, many customers," Citrone said. "We truly appreciate their understanding, and cooperation as we all join together as a community to protect one another and put others ahead of ourselves."
Locally owned Sanitation Solutions has not announced any recent change in policies, and Advance Disposal did not reply to requests for its updated service protocols.