NORTH METRO ATLANTA — All are dealing with some impacts to their lives as a result of COVID-19, but some are having to fight the virus itself. 
When Alex Diener, 62, woke up March 12, he said he "felt miserable," and a day of rest had not improved his situation. On March 13, Diener and his wife went to their room to watch TV. Diener said he fell off the bed and could not get up.
He was taken by ambulance to WellStar North Fulton and admitted at 4:30 a.m. before hospital staff ran a series of tests on the new patient.
Diener was tested for COVID-19 that Saturday, March 14, and the result was positive. However, that result did not come through until nine days later.
In the meantime, Diener's temperature fluctuated from a minor fever to over 104-degrees. During his hospital stay, medical staff had to cover him with ice packs several times to get his temperature to drop. Diener said sleep was elusive with his vitals checked every 90 minutes, and his food intake mostly consisted of juices, bananas and Ensure.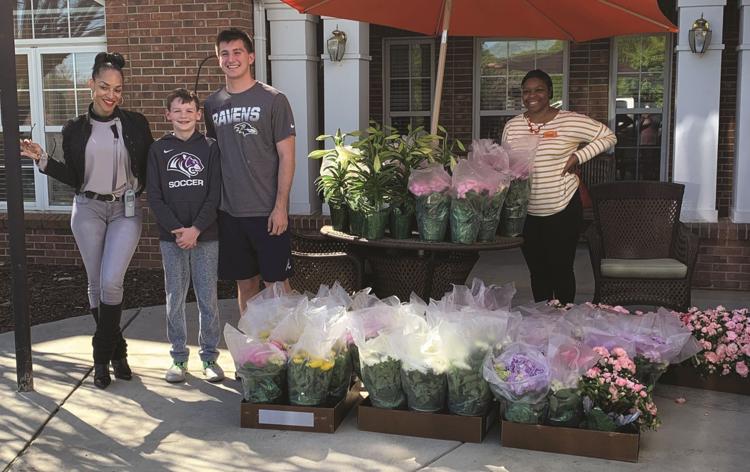 With his COVID-19 test returning positive, he was moved to the ICU on March 23. During the process, he was asked if he had a "do not resuscitate" order.
"I said yes not understanding the severity of the situation," Diener said. "I was so close to being put on an intubator, but thankfully I wasn't."
During his time in the ICU, Diener's fever finally started to drop, and he was eventually moved out of the ICU. His fever remained "normal" for the next four days while he worked on physical therapy.
Diener was discharged March 27 but remained on oxygen for another four days.
He is still in isolation at his Roswell home, and getting some outside time on his back patio when the weather is nice.
After his harrowing experience with the virus, he is grateful.
"I am one of the lucky ones," Diener said.
Praise for medical staff, like those who attended to Diener, has been especially elevated during the pandemic. Carol Blumenaus found a unique way to honor medical personnel and other essential workers through strokes of her paintbrush.
At the entrance to the Orchards of Windward neighborhood in Milton sits a sign Blumenaus painted honoring frontline workers. The sign reads, "Thank you for all you do!" and is adorned with characters depicting medical staff, first responders, the U.S. Postal Service, UPS and FedEx employees, sanitation workers and landscapers.
Elizabeth Lutterman, Blumenaus' neighbor, said the sign is a "tribute to all these wonderful people who continue to work and service our community."
Blumenaus and others have used skills to benefit the community, but others are finding ways to do it with a little ingenuity.
Braxton Chadwick, a senior at King's Ridge Christian School, has made it his mission to provide a bit of natural beauty to those who must stay indoors.
Chadwick has started the Bloom to a Room program which donated flowers to residents at senior care facilities who are confined to their rooms due to COVID-19.
His grandfather owns a wholesale nursery in Cobb County, and orders have either been cancelled or screeched to a halt during the pandemic. He also has a grandmother who is a resident at a senior care facility and unable to leave her room. Chadwick got the idea to put the flowers to good use and provide seniors with a bit of outside beauty by donating flowers to all residents in a particular facility. He has set up a website, BloomtoaRoom.com, where people can purchase flowers to be donated.
So far, Chadwick has provided over 800 flowers and has enough support to give flowers to each resident at 10 local senior care centers. He has set a goal to donate 2,500 flowers.