NORTH METRO ATLANTA — The Hedington Square neighborhood in Roswell is quite the social community, with a 4th of July parade, spring flings, ice cream socials and other ways to bring neighbors together. That has not changed during the pandemic, the approach has just been different. 
For kids, resident Marian Andeweg has set up "hunts" that get kids out of the house. The recent bear hunt had kids walk with their parents around the neighborhood in separate groups from 10 a.m. to 8 p.m. looking for colored paper bears set up in the neighborhood. Smaller kids got to locate the larger bears while the older kids had to find smaller ones with matched with letters, eventually spelling out "safe bear hunting."
"Since it's spread out, they rarely run into each other, and if they do there's plenty of room to go around," Andeweg said. "There's no need to touch anything. It takes about an hour to 90 minutes to get through the entire neighborhood while doing the tasks. Adults without children learned about it too, and even though it's kids-level, some adults without children are doing them too, now. It's great fun."
Neighbors also participated in "yoga bingo." Everyone received a card to print out at home, and they had to find and complete the various poses listed throughout the neighborhood.
There was also an Easter trivia hunt on April 11 in which young kids tracked down Easter plates and older kids solved the questions on the back of the plate.
The fun isn't just for the adults.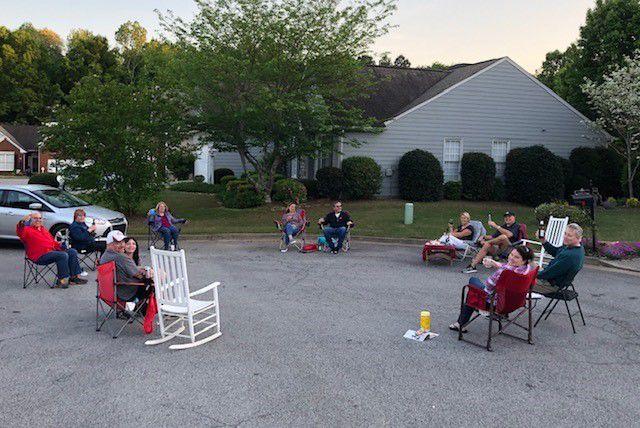 Neighbors are getting together in small groups, while maintaining social distancing, to enjoy food, drink, and the now seemingly rare face-to-face interaction with others, even if it is done several feet apart. Andeweg said everyone stays around 10 feet from one another and food and drinks are not shared.
"We try to limit it at 10 [people], and sometimes people leave to make room for others," Andeweg said.
The tight-knit community has been "strong" during the pandemic, Andeweg said, and everyone is keeping an eye out for each other.
Like many, the life of Alpharetta's Rob Johns has gone digital. Johns retired four years ago and said the pandemic has brought back something he does not miss from his 35 years working in corporate America — conference calls.
Johns has devoted his time to several efforts in his retirement, and nearly all have been impacted in some way by COVID-19.
Johns volunteers as the director of outreach for BH Technology, a North Fulton based organization that assist seniors in using new technology. Johns taught classes at senior living centers or adult recreation centers, but those classes have all been cancelled and have gone all digital.
Family time has also gone virtual. Johns has four grandchildren and he said there has been many more FaceTime calls to keep in touch with his grandchildren. Instead of a weekly dinner, Johns and his family are holding Zoom calls.
A self-described car enthusiast, Johns is a car show frequenter with his unique 2003 BMW Z8. However, even car shows are either being cancelled or going digital. Two events Johns was planning to attend asked him for photos of his Z8 for a "digital car show."
He also runs a wedding car service with his 1941 Cadillac.
"All spring weddings have either been cancelled or rescheduled for the fall," Johns said. "The future of my vintage wedding car service may be in question."
It's not all bad staying at home, though. Johns said he has taken the time to get to household improvements, he is helping a friend in need who recently had a medical condition limiting her mobility, he is investing in the stock market and spending more time with his "lovely wife."