ALPHARETTA, Ga. — Joint Bible study between the men of three North Fulton churches has sparked plans for a November "summit" geared toward an action plan to fight racism. The free virtual event, "Bridging the Gap Men's Summit 2020: Racial Reconciliation Through Worship and Fellowship," will encourage difficult discussions in a forum absent condemnation. 
The event will combine resources from Mount Pisgah, Alpharetta First United Methodist Church, and St. James United Methodist Church in Alpharetta, one of the area's oldest historic Black congregations. The three churches will host and the public is invited to attend. It will be held on Nov. 14 from 9 a.m. to 3:30 p.m.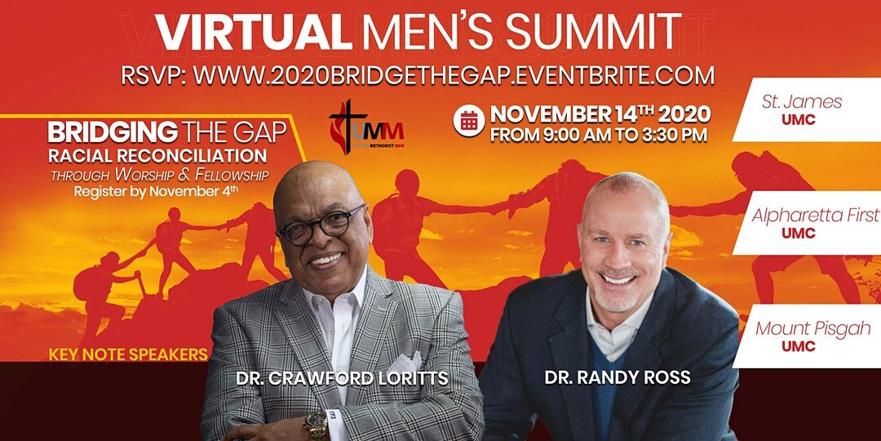 The Rev. Michael Jordan, pastor of Global Missions at Mount Pisgah UMC, said he wants to see something tangible grow from the conference.
"The summit is not intended to be one and done, it's supposed to be first step as we step along side our Black brothers and move into an action around anti-racism — not just not being a racist."
The summit will be composed of three sessions, each building on the other. Session one, called "Reflection," will review the past and influences shaping perceptions and beliefs. The second, titled "Repentance," will be a question and answer panel with clergy from the three churches. The final session, "Revival," will consider ways community can strengthen during difficult periods.
The groundwork for the Bible study was laid in a subdivision between two neighbors who passed each other on morning walks. One, a member at St. James, and the second a member at Alpharetta First UMC. The pair sought to share life perspectives and reasoned their shared faiths would be a good start.
The conversation connected Men's Ministry leaders Kem Fleming from St. James and Chris Day from Alpharetta First UMC. For four weeks, the two churches held textual religious studies paired with a real-world lesson. Smaller group discussions followed. Each week the congregations alternated leading online study. Mount Pisgah UMC, in Johns Creek, connected with St. James for a three-week study later in the summer.
Fleming said that from an African American perspective, it felt "so Christian to talk to brothers" after the study who wanted to reach out and say they have never seen an issue that way.
"That was refreshing to me," he said. "That motivates me and touches my heart."
The dialogues were steeped in shared Christian connection with scripture and what the word of God said about living together and building community.
The most beneficial part of each of the sessions ended up being the unscripted stuff, Day said.
"As guys got more comfortable, they started sharing their own personal stories and that's where I think it started to really form the connections," he said.
Roger Watson from Mount Pisgah is playing an active role working with the two other congregations to plan the summit.
"Word needs to get out that there are people that really care and (are) trying to do something here to make this better," Watson said. "There is power in numbers."