JOHNS CREEK, Ga. — At any pharmacy in the country, patrons can fill their prescription or purchase over-the-counter drugs, probably pick up some snacks or basic household goods.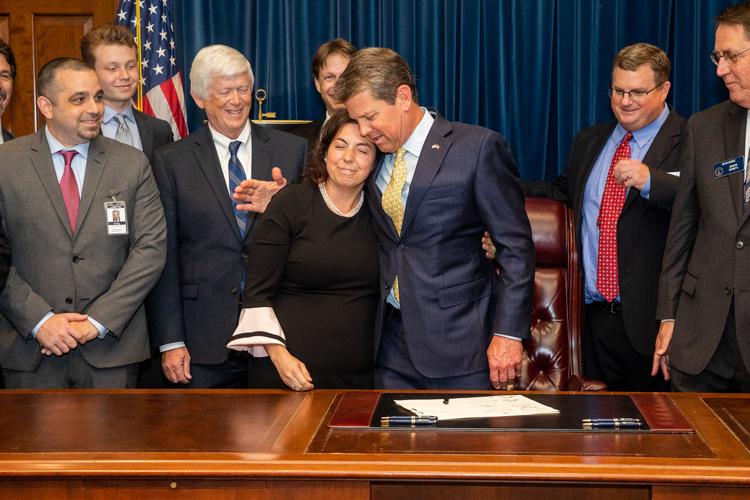 Customers at family-owned Lily's Pharmacy in Johns Creek can get something extra, a free lesson on the complicated world of pharmaceutical pricing, insurance regulations and healthcare benefit managers. 
Last year, owners Jennifer and Mike Shannon worked with lobbyists and legislators to help pass the Pharmacy Anti-Steering and Transparency Act.
The Georgia law prohibits insurers and pharmacy benefit managers who have ownership in a pharmacy from steering patients to that business. Violations are punishable with fines or possible loss of license.
Jennifer said the law was a big win, not just for independent pharmacies but for patients, who experience better health outcomes when they know their pharmacists and deserve choice in their healthcare providers.
"I think people always need a choice for where they want to go," Jennifer said. "Obviously, we wouldn't have fought for that law if we didn't believe that, but the scary part for me is whatever laws we put in place, they're blatantly ignored."
Jennifer said she still sees patients "every day, all day" with insurance plans that steer them to a chain or mail-order pharmacy. In the few months since the law went into effect, Lily's Pharmacy has collected a stack several inches high of papers that say things like, "Refills not covered, must go to CVS."
Pharmacy benefit managers act as a bridge between insurance providers, drug manufacturers and pharmacies. In theory, benefit managers use collective buying power to negotiate lower drug prices.
However, these middlemen have increasingly come under scrutiny for a lack of transparency and conflicts of interests. For example, one of the largest pharmacy benefit managers, CVS Health (formerly known as Caremark), also owns the county's largest pharmacy chain.
Before the Legislature suspended its session because of concerns over the coronavirus, both chambers were working on bills with bipartisan support that would have further regulated pharmacy benefit managers, required more pricing transparency and closed loopholes left by last year's act.
"The whole industry has become so convoluted, and they're all blaming each other," Jennifer said. "I hope that everyone gets past the talking points and down to the level of what actually is happening."
Take the claim that pharmacy benefit managers ensure patients get the best prices for the drugs they need. The Shannons say the opposite is often true.
Like Advil and Ibuprofen, many prescription treatments have a brand-name or specialty version and a less expensive generic version. Some insurance plans only cover the brand-name version. 
"The problem is everyone just says, 'I'll do what my plan tells me to,'" Jennifer said.
The brand-name drugs often cost hundreds of dollars more, meaning patients sometimes end up paying more through a co-pay than they would have if they bought the generic drug out-of-pocket.
"They've worked out a sweetheart deal with the drug manufacturer to get a rebate on the back end," Mike said. "If I'm the PBM and I move market share to your drug, I'll get a bigger rebate. The patients don't get a benefit from that."
To get around these steering practices, in many cases Lily's Pharmacy is able to offer competitive cash pricing, Mike said. If that doesn't work, patients can call member services and ask to opt-out.
If patients call and are still told they have to use a specific pharmacy or mail-order service, they can make a complaint to the state Board of Pharmacy. The Shannons said a few Lily's Pharmacy customers have done so.
"Our patients fight it because we're so vocal about it," Mike said. "We're actively showing people that they have a choice."
However, most patients are not even aware of the law and do not have the time, energy or know-how to advocate for themselves, they said.
The Shannons say they want to help educate people. They have received calls from pharmacists across country who are trying to help their state pass anti-steering legislation similar to Georgia's law.
"The good thing about this year is that more pharmacists are willing to speak up and it's not just me," Jennifer said. "I don't care about getting credit. I just want it to ripple."