ROSWELL, Ga. — As local businesses and schools continue to limit hours or close outright, North Fulton Community Charities has temporarily suspended several of its services.
The charity, which helps address hunger and homelessness in North Fulton, is now operating on emergency services, meaning programs like the education center, thrift store and volunteering opportunities are now closed.
The move coupled with the pandemic will have long reaching effects, as the impacted programs help some of the most vulnerable in North Fulton, according to Director of Communications and Marketing Sheila Sillitto.
"This is not a short-term fix for us," she said. "We can get food right now, but the people being effected are the people that live paycheck-to-paycheck already. When those paychecks stop coming in, or those paychecks fall short, that affects them for the long term."
Sillitto said that this could prolong recovery weeks, months, even years for some of their patrons. With many hourly wage earners seeing their incomes cut off or reduced, she said they may have trouble making payments, finding food and obtaining medical assistance.
North Fulton Community Charities is still providing vital services to its clientele, like food and financial assistance.
"Right now, our focus is on providing financial assistance remotely, electronically, and getting food out via the food pantry," Sillitto said. "We're modifying daily to make changes for the safety of everyone. Today, for example, clients are lining up in their cars, and we're bringing food to them. And we're moving toward an appointment system, where they can just come in to pick up the food that's already been prepared for them."
North Fulton Community Charities usually sees over 100 families on a regular basis, and the coronavirus has not reduced that number. What it has changed is how staff is operating to promote safety and practice social distancing. To that end, it has closed its main lobby off from public use and is regularly sanitizing areas.
"We're trying to limit contact as much as possible," Sillitto said. "Our families, just like everyone else, are preparing to be home, and they want to have the supplies that they need."
The organization has served the North Fulton area for nearly 40 years.
"This is completely unprecedented territory for us," Sillitto said. "We've never faced anything quite something like this."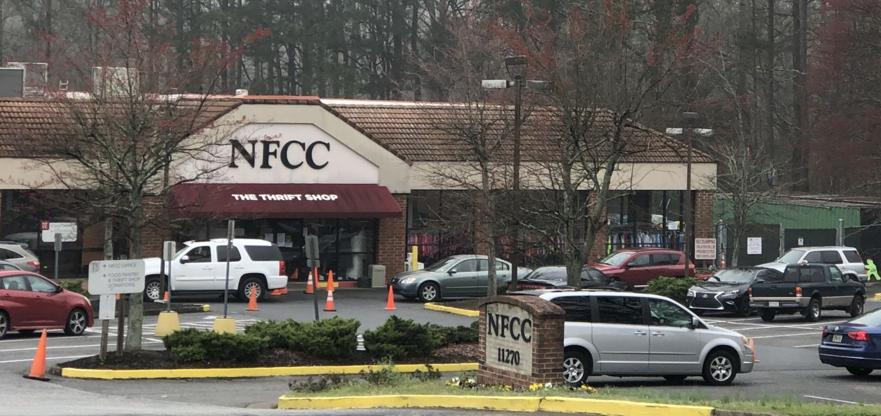 The closest situation Sillitto could compare the current to is Hurricane Katrina, when Atlanta sheltered evacuees and North Fulton Community Charities was inundated with a "huge surge" of people in need.
But unlike Katrina, Sillitto said, "We didn't have the contamination issues that we're dealing with right now and the spread of the disease."
Even without volunteering, there are still ways people can help support North Fulton Community Charities and vulnerable populations: financial donations.
"The best way to help right now is financial donations, because they allow us to help the most people in the shortest amount of time," Sillitto said. "Because this is going to be a very long-term issue, that's the best way they can have the greatest effect."