ROSWELL, Ga. — Completing the Ironman Triathlon is difficult for any athlete, but "Kona" Kyle Pease completed the championship despite his cerebral palsy.
Kyle, who is wheelchair-bound, and his brother Brent were the first push-assisted team of brothers to cross the finish line at the Oct. 2018 Ironman World Championship in Kona, Hawaii. 
"You find a way," Kyle said. "You find a way to cross your finish line."
The brothers spoke at the Jan. 9 Roswell Rotary Club meeting at Roswell Area Park about their experiences and work to help other athletes with disabilities.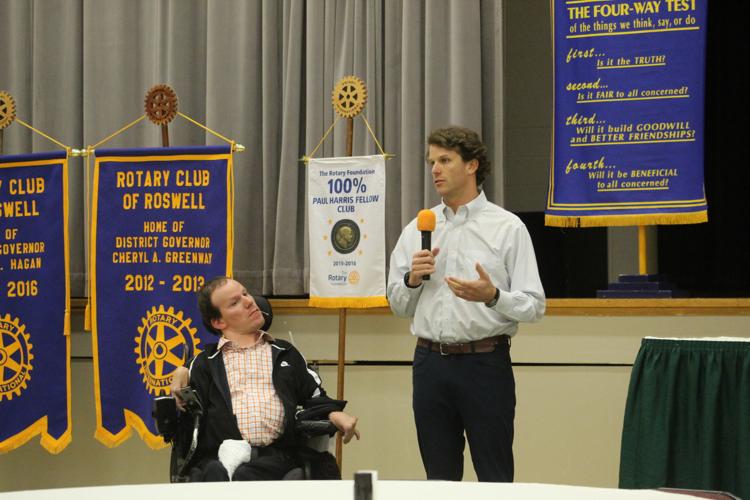 The triathlon has been a lifelong dream for the brothers, and it really kicked off once Kyle saw his brother compete in his first triathlon in Louisville, Ky. Several years ago. After the race, Kyle began asking his brother about how he prepared and how he could compete.
For several years, the brothers were rejected from the Ironman Triathlon, and the two said they were ecstatic to finally hear they could compete in 2018. And, they would be held to the same standards as everyone else competing in the championship.
"It was a recognition of Kyle's body of work," Brent said. "It wasn't just that he had finished other races, it was what he was doing within the sport."
During the championship, the two swam 2.4 miles, biked 112 miles and ran 26.2 miles to complete the triathlon. The conditions, according to the brothers, were brutal.
They pushed through intense heat and winds, and at times, they were close to giving up, Brent said, but they helped support and push each other to finish, even if it was by advancing 5 feet at a time. 
Kyle and Brent finished the 2018 Ironman World Championship in 14 hours and 29 minutes.
"All you see is your brother right in front of you," Brent said. "And you realize you had just witnessed one of the greatest athletic achievements ever."
The competition was, in part, a way to show everyone that anything is possible, Kyle said. And that mission is part of his nonprofit: the Kyle Pease Foundation.
The nonprofit, which was started in 2011, helps meet the needs of people with disabilities through sports. It provides educational campaigns, scholarship opportunities as well as specialized adaptive sports equipment. 
"Whey they race with us, they forget about their challenges," Kyle said. "To see their faces light up when they cross that finish line and for them to forget about their disabilities and see themselves as athletes is amazing."
In April, the brothers will travel to compete in the Boston Marathon along with one other member of the foundation who qualified. 
The brothers have written and released a book about their Ironman journey called "Beyond the Finish."