SANDY SPRINGS, Ga. — Dozens of people gathered in Sandy Springs July 14 in a demonstration to pressure Fulton County Schools to mandate face masks to prevent the spread of COVID-19.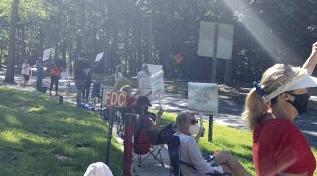 Ruth Hartman, PTO president at Northview High School, and Emily Benelli organized the rally that drew about 60 people from across the county to the district's administrative building off of Northridge Parkway.
Hartman said the district is failing to protect students, faculty and staff by not requiring masks in schools.
"I worry about the health of my family, I worry about the teachers' families," Hartman said. "At the Northeast Learning Center, they have mandatory face mask rules posted everywhere, but they don't plan on doing that to keep our students and teachers safe at school."
Hartman runs a Facebook group called Fulton County School District Families Unofficial Discussion Group, which is how she primarily advertised the event.
On July 16, two days following the rally, Fulton County Schools announced it would begin the 2020-21 school year online. The announcement came two days after Atlanta Public Schools and DeKalb County Schools announced they would start the 2020-21 school year online.
Hartman said the rally was a success, and she is happy with Fulton County Schools' decision.
"I think the decision for students to begin the year virtually was the only good option to choose from." she said.