FORSYTH COUNTY, Ga. — Quick thinking by one local manufacturer of sign and environmental graphics has resulted in an entirely new product line.   
Option Signs, a design and fabrication facility specializing in architectural signage, and its sister company, Oakhurst Signs, is now creating medical and workforce personal protective equipment, or PPE. 
In the wake of the coronavirus pandemic, Option Signs used its manufacturing expertise to create two new lines of business, said Tucker Twitmyer, Oakhurst general manager.
In February, Option Signs and Oakhurst merged, becoming part of a closely affiliated collection of businesses focused on American-made signs, graphics and non-structural construction solutions for residential, commercial, industrial and retail buildings, Twitmyer said.
"Option Signs is run by its founding team, some of the best in the United States at reliable, on-time, on-budget delivery of all manner of signs," Twitmyer said.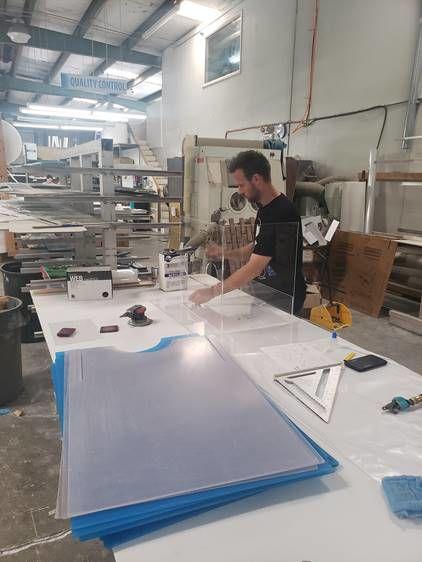 When the pandemic hit, the two companies responded with a double whammy.
"Oakhurst Signs created a marketing campaign and had an e-commerce store up and running within a week to help essential businesses stay open," Patti Huxford, senior vice president of sales and design for Option Signs said.
One item especially produced for the pandemic is the company's intubation box which protects healthcare workers who administer respirator tubes to patients.
"We took an open-source design and modified the box to serve its purpose and to protect intubation professionals better," Twitmyer said.
Twitmyer said the device helps reduce exposure to high viral concentration during intubation. The boxes are currently in three medical systems in Georgia in addition to 15 other states.
Workforce protection in other fields includes sneeze guards which work in a variety of industries.
Option Signs offers three different varieties — permanent, tabletop and temporary, light weight versions. Post offices and election polling places use mid-range versions.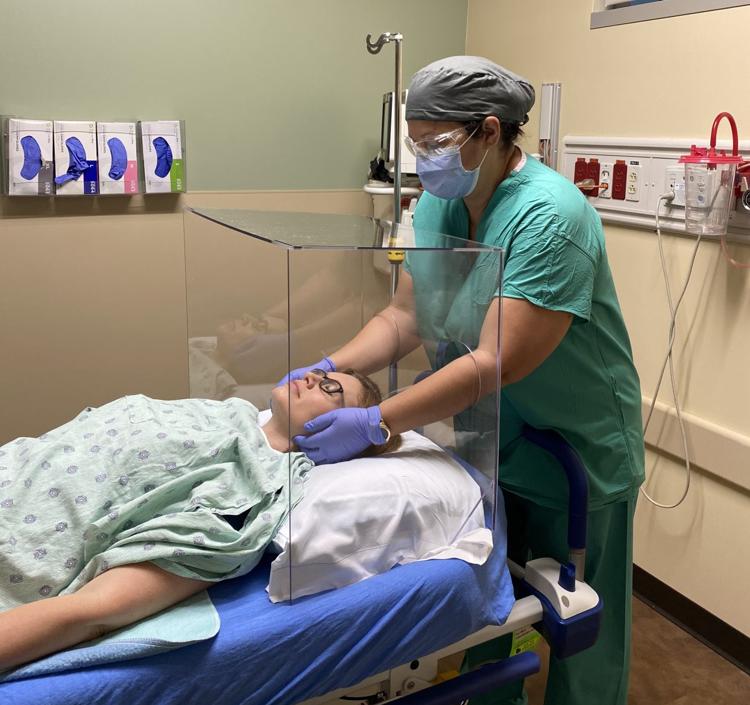 Twitmyer said that when used in elections, the sneeze guard will protect the poll worker and voters, and they also allow space for iPads.
Sneeze guards are more widespread, Huxford said.
"Our guards are being used in about 15 states now in convenience stores/gas stations, package stores, U.S Postal locations and already purchased for various primary locations in the Northeast and Georgia," Huxford said.
The Forsyth County company now offers "distance dots" and construction signs which provide safety features for businesses and consumers including handwashing, social distancing measurement and other precautionary measures.
The two companies have been collaborating since their union, but the urgency of safety precautions hastened the bond.
"We've been collaborating on some other projects since February of this year, but the COVID-19 efforts created a great opportunity to come together as one organization behind a common goal of helping others get through together," Huxford said.
There will be more collaborations as virus-related issues continue.
"Innovation is phenomenal. Other ideas are being prototyped to accommodate changes in healthcare," Twitmyer said. "Everyone is working on safer interaction for employees and customers. The core challenge is how to change face-to-face interaction to a remote interaction to reassure, inform and give direction."
Option Signs has completed projects which include the HALCYON lights and murals at the mixed-use development, signage all over the Emory campus and the Gainesville campus of Lanier Technical College, among numerous others throughout the Southeast.