NORTH FULTON COUNTY, Ga. — When COVID-19 slammed into North Fulton in mid-March, local restaurant and food business owners stared into the face of a serious survival threat. Shuttered dining rooms, disappearing cash flow, clamoring creditors and suppliers, cutting loose employees, disease safety issues
Ryan Pernice saw all that, plus a way to give back to the community.
Pernice was one of three area restauranteurs/food producers who detailed struggles and survival techniques at the Aug. 25 Greater North Fulton Chamber of Commerce's virtual Wellstar Chamber Luncheon Series focusing on small business resilience and opportunity.
The business owners related their pivots through a rapidly changing landscape, making creative use of social media (Facebook Lives focusing on safety measures and specials for example), redesigning menus and marketing campaigns and debuting new products and business approaches. All that, while working to keep both customers and employees safe. The oft-repeated message was: Be adept at making quick changes, take risks and collaborate.
Supplying a need
The 25-year North Fulton resident and co-owner of downtown Roswell's Table and Main and two other restaurants shut down two of his operations and promptly turned one into a soup kitchen. Table and Main morphed into Table and Aid.
"I love a good pun" is how Pernice put it.
Aided by revenue from his remaining for-profit operation, Osteria Mattone, plus donations from food suppliers and the public, Pernice said some from his remaining 40 employees (down from 120) staffed the soup kitchen operation. The kitchen provided meals to about 150 people a day, nearly 10,000 in all during its run.
"We knew there was a need for the newly food-insecure, and that food insecurity looked a lot different in March, April and May than it traditionally had," Pernice said.
Now welcoming diners back, he said, "We've had people in our dining room saying they're supporting us because we supported the community."
Pernice said as they operated their soup kitchen venue, thousands of dollars in donations came in from some 350 donors.
Southern Baked Pie Company owner Amanda Wilbanks said she was able to avoid laying off any of her 40 employees, but changes were inevitable.
She said their four retail bakeries ended walk-ins. The focus also shifted from sweet creations toward so-called savory pies, chicken pot pie for example.
"And we transitioned our marketing to focus mainly on the utility, ease and healthiness of our product, as a one-stop shop for dinner," she said.
She partnered with a friend who owns a biscuit business to provide biscuit and pie bundles for breakfast. Taking a nimble approach to technology and its marriage to marketing also helped, she said. They began using a software program enabling them to target email customers by age, demographic and location, with the capability to text message their touts as well.
Dipping a toe into internet advertising also paid off, she said, with a 100-dollar ad yielding thousands of dollars in revenue.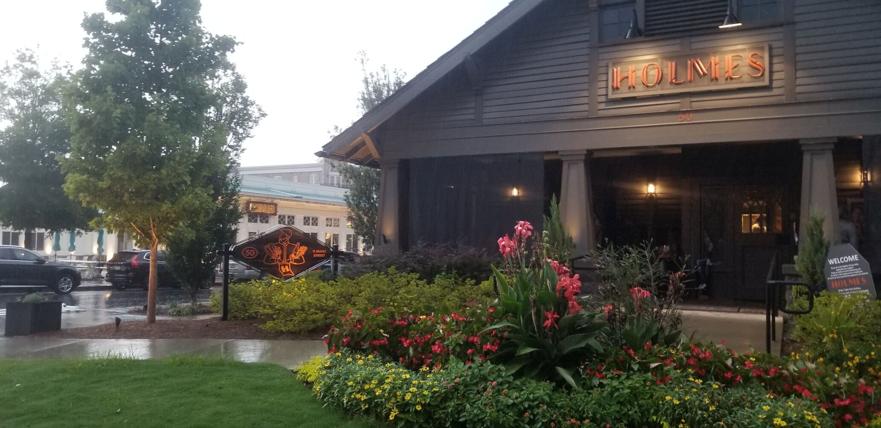 Adding ease and convenience
Restaurant Holmes owner Taylor Neary in Alpharetta pumped up the volume on ease and convenience as well by redesigning a facet of his operation. In addition to shifting to online ordering and directing customers to a pickup service window, he said he set up a "Holmes Bodega" in the bar area — a convenience store of sorts, selling items like canned beer, wine, merchandise and stickers. Newly designed cocktail and meal kits also steadily headed out the door he said.
"At that point I was pretty much ready to sell chairs, tables, anything people wanted to buy to help us out," Neary said.
The three also encountered challenges with food quality and delivery. Wilbanks said they brought in a customer support team to troubleshoot a problem with their nationwide shipping. From 100 to 150 pies weren't making it to customers each time.
Neary said they struggled with how to determine which foods are best served on-scene and whether fresh would hold up "when carried around in a car for 45 minutes and then reheated." He said they had to decide on which menu items would travel well and still present perceived value.
Some of the same considerations led to menu alternations at Pernice's operation, such as a taco night at Italian-themed Osteria and working up picnic baskets for outdoor diners.
Restaurant Holmes' Neary said that further shifts in methodology have been necessary with takeout business, which has fallen off now that dining rooms are reopening. This, he said, has sparked a renewed emphasis on safety for employees and guests.
All three food purveyors stressed that community support had been crucial in keeping afloat.
"People kept asking what they could do to help," Neary said. "I finally told them to give me money and I would put it in the bank."
He said a number of people did just that. Others, he said, tacked 50 percent tips onto their bills.
"That has never happened before I can tell you in the restaurant business," Neary said. Still, he said, he had to furlough 13 of his 20 employees.
Challenges remain ahead
Challenges and restriction remain. RO Hospitality's Pernice said they have returned to both indoor and outdoor dining, albeit with reduced capacity due to social distancing. At Holmes, the outdoor dining area is on ongoing concern, while indoor dining remains off-limits due to staffing limitations.
What are lessons learned with a view to going forward?
Wilbanks said one of the toughest things about the last few months has been letting go of a tendency toward being type A and focusing too closely on small details.
"The process doesn't have to be perfect," she said. "You just have to make a decision and go for it and then work out the kinks along the way."
Pernice said bluntly that "my generation has a tendency to focus on being right. Forget about being right. What's necessary in a pandemic is being decisive and acting quickly."