ROSWELL, Ga. — As tax season rolls around, North Fulton Community Charities is again looking to smooth out the hassle for local families.
North Fulton Community Charities is now offering free Volunteer Income Tax Assistance with a team of IRS trained and certified volunteers for area residents. The service is intended for moderate to low income individuals to help with basic tax returns.
"The reason we do this is to make sure folks understand what they are eligible for, to avoid scams and to avoid the refund loans that several places will trap people into," said Director of Programs Eden Purdy. "This program is very widely respected nationwide."
Each year, North Fulton Community Charities sees several people who fall for scams or are taken advantage of when they are charged enormous fees for such services or have their personal information stolen by illegitimate tax preparers, Purdy said.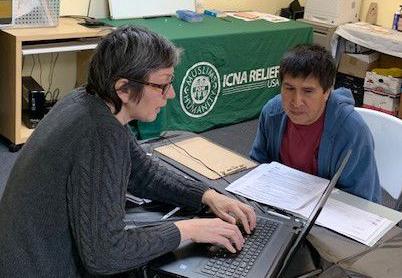 The VITA program, which is held in partnership with the Internal Revenue Service and United Way, is one way residents can avoid such pitfalls.
Another big advantage of the program is that it can also save time and money, as the average tax return costs about $200, Purdy said. 
"It is saving you money, but also, the way that we file, through e-file, your refund is deposited directly into your bank account," she said. "So, the refunds are processed much faster."
Last year, North Fulton Community Charities helped over 400 people through VITA. This year, the number is expected to grow to about 450-500 people.
That increase in demand could indicate that it's getting harder for people to live and work in the local community, Purdy said. 
"Even though we have a thriving economy and North Fulton is a very affluent area to live in, there are a lot of folks that we see every day that are struggling just to live in this area," she said. "We are seeing rent going up, and we are seeing wages stagnant… It only takes a car to break down or for the main provider to get sick for someone to start losing their income and to get into financial trouble when you live in North Fulton, especially those who are living paycheck to paycheck."
North Fulton Community Charities, located at 1125 Elkins Road in Roswell, will offer the VITA program Mondays-Fridays and some Saturdays through April 14. Appointments are required during weekdays. Walk-ins and appointments are available some Saturdays.
Assistance is available both in English and Spanish.
To learn about VITA tax preparation services, available dates or to make an appointment, visit nfcchelp.org or contact vita@nfcchelp.org.