JOHNS CREEK, Ga. — Colorful portraits of famous Cuban musicians and a neon blue "good vibes only" sign greet you as you walk in. Although mostly empty due to the pandemic, it's easy to imagine groups of diners laughing and eating at the restaurant's tables, which are painted a blue so bright it matches the sign's neon glow. Cuban music plays from the restaurant's speakers, and a mini-Christmas tree sits on the front counter.
Local Cuban Cocina, which opened in late July on Jones Bridge Road, is Johns Creek's new spot for Cuban and Latin fusion food.
Co-owners Carlos Mejia and Beto Montenegro say they wanted to bring something new to Johns Creek and decided to introduce traditional Cuban cuisine to residents.
"Cuban food is rich in flavors, rich in colors, rich in aromas," Mejia said. "It's a mix of different cultures … and it's really special for that. Cuban food is really good, and the idea was to offer something different for everybody."
Cuban cuisine blends African, Spanish and other Caribbean influences in a way that illuminates the country's history. Spain colonized the island from 1492 to 1898. During that time, Africans were taken to Cuba as slaves. Those from neighboring Caribbean countries often traveled to Cuba and influenced its culture as well. And due to the island's location and tropical climate, fruits and root vegetables like plantains and yuca are central to Cuban food. Staples of Cuban cuisine are rice, beans and plantains, and dishes are often seasoned with spices like oregano, coriander and cumin.
Mejia is an architect turned restaurant owner who moved to the United States from Colombia 22 years ago. Since then, he has worked in various Latin American and Caribbean restaurants, and he brings that experience to Local Cuban Cocina. The co-owners had the opportunity to buy the Jones Bridge site in February and had planned to open in March. But the pandemic forced them to delay their opening to the summer.
"Unfortunately, this is a very hard moment to start any business," Mejia said. "But I came back to … roll with passion with energy. And I have that."
Mejia said that in the four months since opening, one of the restaurant's most popular items has been its ropa vieja. It's the national dish of Cuba, and the restaurant makes it with flank steak and stewed vegetables.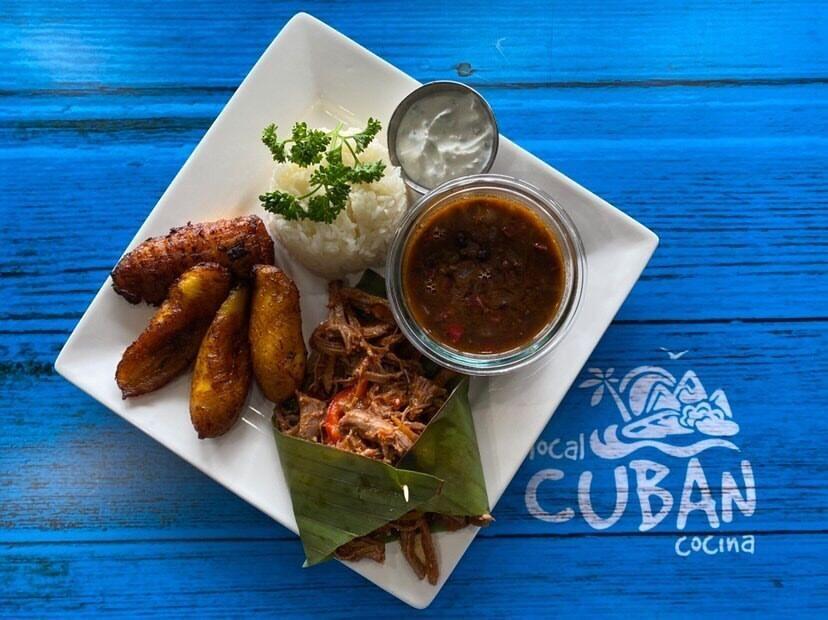 "Ropa vieja" is Spanish for "old clothes." Legend has it that an old man with no money once shredded and cooked his own clothes to feed his family. But Mejia said he doesn't know how the name's origin relates to the present-day dish, which originated in Spain and was first documented in Cuba in the mid-19th century.
"It's really good meat cooked slow and marinated with different kinds of spices, peppers and onions," Mejia said. All of the restaurant's entrees come with white rice, black beans and a choice between maduros and tostones.
Tostones are green plantains that are twice-fried and savory. Maduros are sweet plantains.
Also popular, of course, is the Cuban sandwich. Mejia said Local Cuban Cocina has sold over 700 Cuban sandwiches since opening.
"When people think of Cuban gastronomy, everyone knows the Cuban sandwich," Mejia said. "The original Cuban sandwich is very special."
Local Cuban Cocina makes theirs with bread from a traditional bakery in Tampa, sweet pickles, sweet cheese and a slice of pork marinated overnight and cooked slowly the next day for more than 10 hours.
In addition to traditional Cuban staples like picadillo de criollo — a ground beef dish with olives, raisins, spices and more — and masitas, which are crispy chunks of fried pork, Local Cuban Cocina offers everything from nachos and tacos to quinoa salad bowls to flan and tres leches. It can be fusion, but with Cuban ingredients, Mejia said.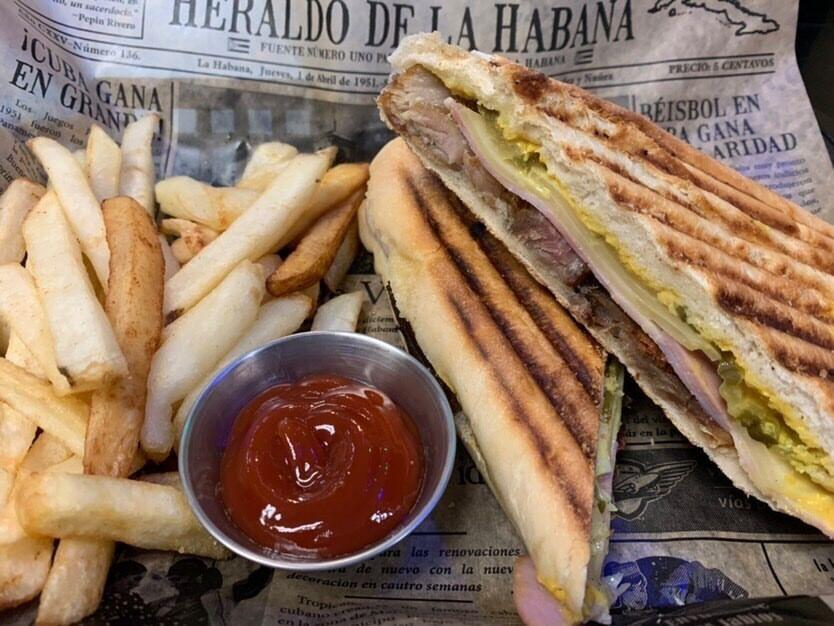 Nearly all of the restaurant's orders have been takeout, Mejia said. On an average day, the restaurant seats from two to five tables of dine-in customers. He stressed that the restaurant follows CDC guidelines and all employees wear masks and clean regularly.
Mejia said he looks forward to the time when he sees people eating and having a good time together in his restaurant soon.
The "local" in the restaurant's name isn't a reference to cuisine that's local to Cuba, he said. Rather, it's because the restaurant's goal is to serve the local community.
Mejia said he is grateful for the support of Johns Creek residents, the Chamber of Commerce and other government leaders.
"The most important thing to me is 'good vibes only,'" Mejia said. "Too many problems come every day … so [despite them] in this place, it's good vibes only, all the time."