Henry County officials have shown they are hungry for new, large-scale projects that will complement its close proximity to Hartsfield-Jackson and Atlanta Motor Speedway. The county is starting the new decade off with a bang as a $250 million residential development was just submitted for review. The county ended last year with officials releasing renderings of a proposed massive casino resort on the grounds of the famed speedway.
Henry County sits southeast of the metro area sprawling along either side of I-75 from right about where Ga. 675 intersects with it, south past Locust Grove. Other cities within the county include Stockbridge, McDonough, Blacksville and Hampton — the home of the Atlanta Motor Speedway. It is an attractive place to live for many because it sits just minutes from Hartsfield-Jackson Atlanta International Airport.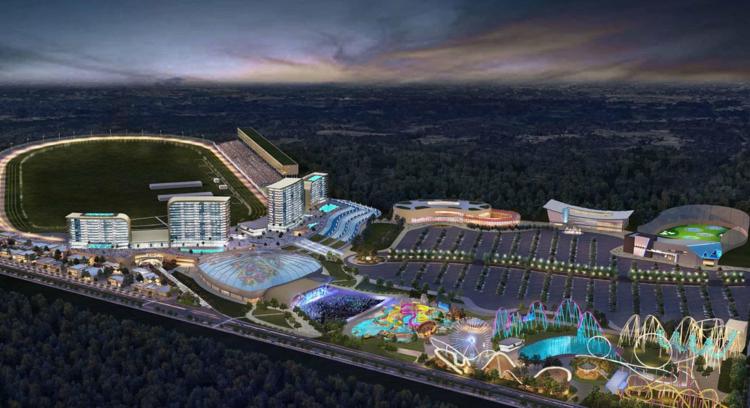 The casino proposal is pie in the sky unless state officials pass legislation this session to legalize gambling in Georgia. If they do, it seems Henry County officials are working to get ahead of that game. Some state officials have been working to legalize casino gambling and horse racing in Georgia for years now with no success, but the idea is gaining traction.
Some officials see this as a way to boost revenues for Georgia's HOPE Scholarship. The program has been a huge success in Georgia since it was introduced 27 years ago, adding more reasons for families to want to move to the state and giving employers an edge in recruiting top talent. But since HOPE started, college tuitions have risen dramatically. From just 2006 to 2016, a report by the state Department of Audits and Accounts Performance Audit Division found that tuitions rose 77 percent. While tuitions have gone way up, revenues for the HOPE Scholarship, which come entirely from the Georgia Lottery, have not risen at the same pace. Some state officials see allowing horse racing, and possibly even casino gambling, as a way to supplement and even boost HOPE's ability to pay for more Georgia students' tuitions. Some say that because Georgia already has a very well-established equestrian industry that horse racing may have a better chance at passing before casino gambling.
But if casinos are allowed, Henry County wants in on the action. While the state would get their HOPE revenue, they would get sales tax revenues and a huge economic development shot in the arm. In addition to four high-rise hotels rising along and overlooking the speedway, there would be a full-fledged resort that includes a music venue, water park, amusement rides, karting, condos, apartments and significant retail and restaurant space.
"We're talking a full destination that caters to the entire family, and not just for people to come and gamble," Ed Clark, president of Atlanta Motor Speedway, told the Henry Herald. "As a matter of fact, the casino footprint would probably be 10 percent or less of the square footage of the entire operation."
While the casino proposal is pending on a lot of dominos to fall, a massive $250-million residential development was recently submitted to the Georgia Department of Community Affairs for review as a Development of Regional Impact. According to the Atlanta Business Chronicle, this project would "easily rank as one of the largest residential developments proposed around metro Atlanta in recent years."
The project would include 1,135 single-family homes and townhomes around a lake and a 25-acre "farm-to-table agricultural farm." The project, which has an estimated completion date of 2030, is estimated to generate $5.3 million in local residential taxes.
Geoff Smith is a mortgage banker with Assurance Financial focusing on residential home loans for refinances and home purchases. 
*The views and opinions expressed in this column do not necessarily reflect the views of Assurance Financial Group