ATLANTA — Georgia's 2019 job gains have fluctuated wildly from expectations – the result of a host of economic factors, according to Rajeev Dhawan of the Economic Forecasting Center at Georgia State University's Robinson College of Business.
One-time events, an ongoing global slowdown, the U.S.-Chinese trade spat, and a deteriorating domestic investment climate have created unusually large deviations from average monthly job gain expectations, Dhawan said.
"Monthly job creation numbers always fluctuate, just like monthly rainfall totals, and rarely is there a month that hits the so-called average mark," Dhawan said. "However, it's rare to see three negative growth months out of nine, without a special reason."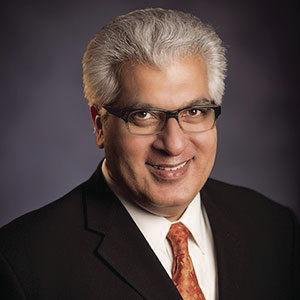 Speaking at his quarterly "Forecast of Georgia and Atlanta" Nov. 20, Dhawan highlighted some of the fluctuations.
Georgia gained 23,200 jobs in the first quarter of 2019, followed by only 300 job gains in the second quarter, then roared back with 29,100 jobs in the third quarter of the year.
"Three marquee sporting events between December 2018 and February 2019 – the MLS Championship, the Chick-Fil-A Bowl and Super Bowl LIII – delivered a positive hospitality boost to Atlanta," Dhawan said.
From October 2018 to January 2019, Georgia added 39,100 jobs – a 33 percent boost to the 2018 monthly jobs creation pace of 7,400 — with 20,800 of those gains in retail trade, hospitality and administrative services (proxy for temporary jobs). These service sectors account for 30 percent of the state's employment base, but they produced 53 percent of job additions during those four months. 
When the events were over, the three sectors shed 6,200 of the 9,700 jobs lost in March and April, Dhawan said.
The forecaster examined premium job creation in the state's catalyst sectors — corporate, technology and manufacturing. The three account for roughly a quarter of Georgia's employment base, pay well above the median wage, and lead to demand for products and services, resulting in jobs in supporting sectors. One support sector, transportation, warehousing and utilities, has added only 700 jobs in the first three quarters of 2019 despite the growth of e-commerce.
"If the global slowdown, coupled with a strong dollar, reduces demand for Georgia exports, we will produce less, which will show up in the performance of the state's manufacturing sector and employment growth in the Savannah metro area," said Dhawan. "The global growth climate is so bad that Savannah-based Gulfstream announced it will lay off 362 people at its main facility in coming weeks. Loss of these high paying jobs is never good for the metro area where they happen."
Local numbers tell own story
Meanwhile, two other recently released housing reports show a leveling of the economic prosperity Metro Atlanta has enjoyed much of the past decade.
Zumper, which tracks apartment rental rates across the country, reported apartment rents in the Atlanta area are no longer climbing by leaps and bounds.
Alpharetta ranks fifth in priciest apartments, with a one-bedroom averaging $1,320 a month in October. That's a drop of 1 percent from October 2018.
Roswell, by comparison, is much cheaper and ranks 14th in price among metro area cities. The $1,020 rent on a one-bedroom is down 3 percent year over year.
Atlanta has the priciest average cost to rent at $1,430 a month, followed by Decatur, then Brookhaven and Sandy Springs. Of note, the average cost of an apartment in Brookhaven, $1,380 for a one-bedroom, is a 9 percent drop from last year. That's by far the greatest decline among the 18 metro cities included in the study.
Another housing study released last week shows that 6 percent of millennial renters in the Atlanta metro expect to rent forever. 
The Apartment List study also showed that of the millennials who expect to buy a home, 48 percent have yet to start saving toward a down payment.
Good news for parents is that millennials are looking for less support — $10,000 last year vs. $9,000 this year.