JOHNS CREEK, Ga. — After permitting problems threw the future of Nell's Produce Market into question, patrons of the longtime Newtown establishment rallied to their support.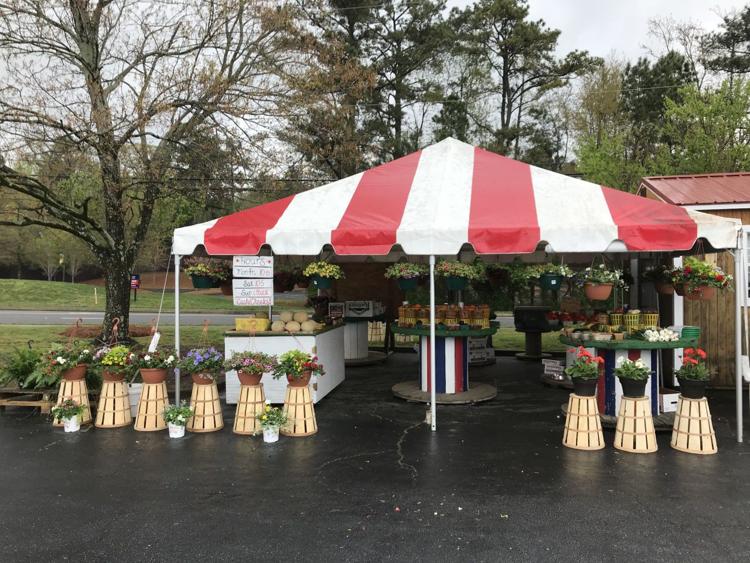 Owner Tate Clements said he has had a few sleepless nights over the past week, but he is optimistic that the City of Johns Creek and Nell's have come to an agreement that will allow him to open for the season on April 1.
In 1988, Nell Proctor opened a produce stand off of Mount Vernon Road in Dunwoody. In 1997, her family opened a second location at the corner of Old Alabama Road and Nesbit Ferry Road which is now in Johns Creek. Now in her 80s, Proctor still runs the stand in Dunwoody, and her grandson, Clements, operates the Johns Creek location.
"My mom did it for years, and she retired before my grandmother did," Clements said. "I was able to take over my mom's half of the business back in 2008, and I've been running the Johns Creek location ever since."
For decades, Nell's Produce has sold fresh fruit and vegetables from April through September. More recently, the business has extended its season, selling pumpkins in October and Christmas trees in December.
Because it was founded before Johns Creek was incorporated, Nell's Produce exists in a grey area called "legally nonconforming." Properties that were built before the city wrote its codes are grandfathered in, meaning they do not have to comply with the city's zoning regulations so long as they stay in operation and their site does not expand.
However, Nell's Produce is more complicated than most legally nonconforming cases, Johns Creek Community Development Director Ben Song said.
At issue is a 12-by-24-foot shed that Nell's Produce added in 2014 to house coolers. The city says it violates code.
"Without coolers I'm limited in carrying certain things," Clements said. "Leafy greens like lettuce, they just melt in the summer heat."
Clements said that at the time, he talked to the planning department about the shed, but never received a formal permit. The city says because of the temporary nature of the business, a permanent structure is not allowed.
"The shed is an illegal structure," Song said. "It wasn't permitted. It doesn't meet setback requirements. It doesn't meet the zoning ordinance related to building materials."
Further complicating matters is that Nell's Produce has been operating with a seasonal business license. In Johns Creek, those licenses are for businesses that are open for a few months. Nell's is open most of the year.
Clements said in the first few years after the city incorporated, it was convenient not to have to drive down to Atlanta for permitting. However, as the business grew and the permitting staff changed, the process became a headache.
"I've been dreading going to City Hall every year to get the permits," Clements said. "It's not consistent from year to year — How long can I be there for? How many permits do I have to apply for?"
Even the Community Development director seemed to have trouble untangling the red tape surrounding Nell's Produce.
"Every year they've come in, it's been evolving," Song said. "So many hands have touched this, in terms of their request for their permits, and it appears that different approvals may have been given."
This year, when Clements went in for his seasonal permit, it seemed like he would not be able to open, even though his season was set to start in a few weeks.
He shared the news on Facebook, and his story garnered dozens of shares and comments on Facebook and Next Door. Johns Creek Mayor Mike Bodker said he received 20 to 30 emails on the subject, and one Nell's patron even spoke during public comment at the March 9 City Council meeting.
"I'm overwhelmed," Clements said. "It just shows how blessed I am to have the support from the customers. I just feel so grateful and appreciative of everything they've done."
Song stepped in quickly to understand the unique situation and reach an agreement that will allow Nell's Produce to open for the 2020 season as usual, though the shed will have to be gone by the time its permit expires in December.
"I feel very encouraged now," Clements said. "If we go through with what I think will go through, I think we'll actually have more stability in the future. Hopefully we'll have another successful season."