NORTH FULTON COUNTY, Ga. — With social distancing the new norm, businesses throughout the country are trimming operations.
Some have been hit harder than others. And some are taking novel approaches to their business model, observing heightened protocols to ward against the spread of the deadly coronavirus.
On March 18, Gov. Brian Kemp announced that Georgia has received an official statewide disaster declaration from the U.S. Small Business Administration that will provide Economic Injury Disaster Loans to impacted small businesses in all 159 counties in Georgia.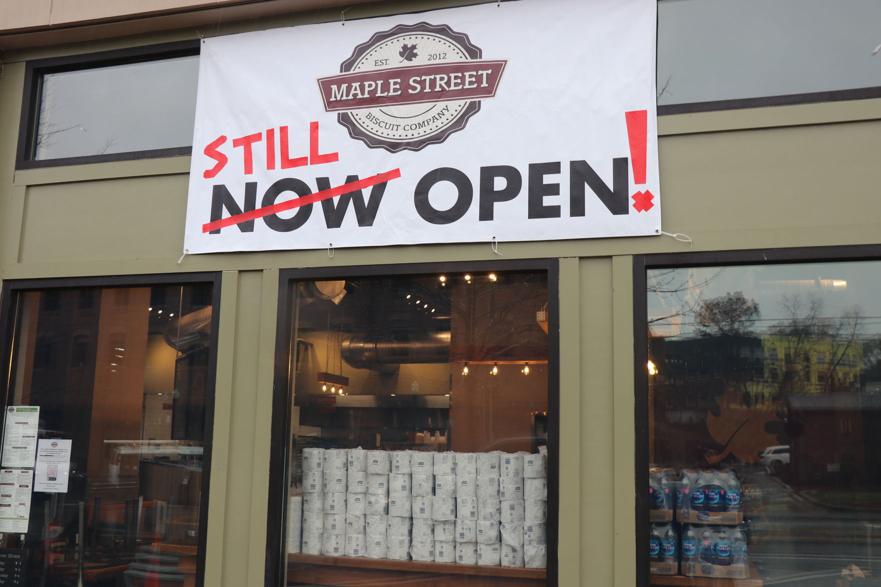 Kim Eells, senior vice president of SBA Business Development at Georgia Primary Bank, said Georgia has been added as a declared state for Coronavirus Disaster Loan Assistance with the SBA. Businesses that have been adversely affected by COVID-19 may now apply for Disaster Assistance directly with the SBA, no banks involved, Eells said. These loans are up to $2,000,000, up to 30-year term, fixed rate of 3.75 percent. You can apply online at sba.gov/disaster.
While that aid is welcome news to the thousands of small businesses in north Metro Atlanta, business owners are adapting in other ways.
Restaurants have been closing or are turning to take-out options.
Ryan Pernice, owner of Table & Main and Osteria Mattone in Roswell, and Coalition Food and Beverage in Alpharetta, says they've had to change their entire business model.
"It was pretty much as if someone had flipped a switch about two weeks ago," he said. "All of a sudden, we reached the tipping point with the news and the sound and fury surrounding this, and revenue just fell off a cliff... It just didn't make sense to stay open anymore."
To adapt, Pernice has combined the most popular dishes from his restaurants into one menu, from which people can order for take-out from his only open restaurant: Osteria Mattone.
He said he worries about his staff.
"Everyone is very concerned with their jobs," Pernice said. "We've got hourly employees that have been, in essence, furloughed, because we didn't have anything for them to do… In effect, we have about 120 employees that are sitting on the sidelines right now while we try and adapt."
For now, Pernice said, the best way to support restaurants like his are to order take-out and consider buying gift cards, which can help owners and staff immediately.
"Even just positivity online will help us," he said. "For your favorite restaurant, share their menu, talk about the to-go options, a word of encouragement helps."
---
Finding employment, helping out
Those looking for a job can still find support during the pandemic.
The popular Roswell United Methodist Church Networking program, which meets every other week, has moved online.
The program regularly sees 200-300 people seeking job-hunting advice, companionship and leads.
Organizers launched a program March 23 providing online workshops through Zoom and/or Webex. The service provides instructions for participation in the coming days along with updates at RUMCjobnetworking.com.
At the same time, some Roswell restaurants have stepped in to address food security concerns for students.
Mike Thomas, owner of Wild Slice Pizzeria in Roswell and his wife Cristy, a special needs kindergarten teacher at Esther Jackson Elementary School, started a school meal program that provides food for students in need while supporting local restaurants.
"Purchase gift cards to participating restaurants and donate the value to a school meal distribution program," the couple said. "The restaurant prepares healthy meal options based on the amount of gift cards purchased. Volunteers pick up the meals and distribute them to the students in need."
Several area restaurants are participating, including Gracious Plenty Bakery & Breakfast, PURE Taqueria, From the Earth Brewing Company, Big Oak Tavern and American Pasta Factory.
Schools or restaurants may participate by contacting Mike Thomas at miket30075@gmail.com, and anyone interested in helping can follow the Facebook group @SchoolMealProgram.
---
Business organizations step up
Kali Boatright, president and CEO of the Greater North Fulton Chamber of Commerce, said chambers across the country are totally focused on helping businesses get through the crisis.
"What we're doing, and most regional chambers are doing, is putting together guides that are an amalgam of all the different resources available to business," she said.
When the Small Business Administration announced its $2 million in disaster recovery loans, she said the chamber immediately sent out the information along with a list of local banks who are preferred SBA lenders.
Boatright said Georgia Commute Options has moved up its commuting webinar series. Many small businesses, she said, have never explored telecommuting, and the chamber is distributing the information to help some businesses adapt and stay in operation, she said.
The primary concern of businesses across the board, she said, is the health and safety of their operations and their employees. Also of concern is the loss of employee incomes.
"That would be immediately devastating, not just to the employee and to the business, but to the entire community's economics," she said.
Boatright said she includes her cell phone number with her emails, and she has gotten plenty of calls.
"The idea is that I'm listening to our members and I'm able to see what it is they're concerned about and what it is that they need [is important]," she said.
There are some steps the community can take to help out, she said.
She suggested people buy gift cards that can be used as a later date to help businesses through the tough times. Another idea is to patronize businesses that may be struggling, like getting your car serviced.
"I'm going to do that now because I think that small business could use that support," she said. "Certainly, if we're all thoughtful about it, then we're going to be able to make it through together. That's the goal."