JOHNS CREEK, Ga. – The Johns Creek Historical Society explored the roots of folk music at its monthly meeting March 4 at the Summerour House at the Autrey Mill Nature Preserve. 
The event entitled, "A Brief History of American Folk Music," was presented by Kathy Reed, a seasoned musician and Georgia native. The presentation was a blend of historical discussion concerning the roots of American folk and its revival in the 1960s, with musical performances of some of folk's most influential songs throughout history.
The meeting continues the organization's efforts to bring different forms of historical insight to the public each month. Reed shared her personal passions for folk as well as its rich history and influence on American music.
"Folk art is usually something that is very reflective of that particular artist's personal experience and also very much a reflection of their indigenous culture," Reed said. "Folk music has been described as music when you need it most. It's basically to connect with each other in times of shared trial or struggle…from the slave fields or the later songs of the working man…these are songs that brought people together."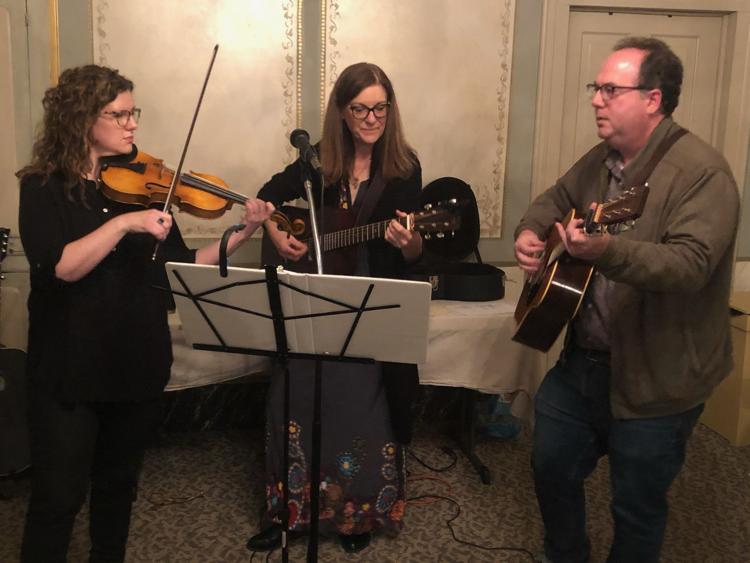 Reed continued to dive into folk's historical resonance and why it has remained a staple of our culture. Joining Reed were musicians Ellen Rapier playing the fiddle, and Russell Weeks on guitar with both providing backing vocals. Everyone in attendance was provided a lyric sheet to encourage audience participation for the final songs of the night. Songs included pivotal classics such as "This Land Is Your Land" by Woody Guthrie and "Blowin' in the Wind" by Bob Dylan. As a musician herself, folk's influence has been the guiding force behind her own career, Reed said.
"I always feel a connection to the people who loved these songs before because these songs resonate with us," she said. "They're pleasing to our ear but also there's something about the lyrics that touch, move, and inspire people and it's remained that way…I feel connected to those people."
Reed also has roots in East Tennessee. Her Southern influence is made apparent in her music. As a singer, songwriter, and multi-instrumentalist, she has toured the U.S. and Europe professionally with her former band, Lonesome Redwing. The band opened for a number of legendary acts, such as Tony Rice, Patty Loveless and Peter Rowan. While many of her songs have been published and recorded, a number of them have also been recorded by different artists.
"Kathy Reed is a tremendous talent. Her presentation was insightful and the engagement of the audience made for a wonderful evening sharing the songs of the past. Her passion for folk music was truly inspiring," said Marnie Gordon, a Johns Creek Historical Society board member.
Society President Joan Compton said she has been pleased to provide such a wide range of historical presentations each month. She said she hopes the public will continue to appreciate Johns Creek's extensive history.
"The folk music program was definitely something different from our usual, but a good example that history can be fun as well as bring new insight," Compton said. "It's part of trying a variety of topics, methods of presentation, and activities to engage residents, most without roots here, in the history of this area."
The organization's April meeting is entitled "The John Rogers Cherokee Family." The presentation will cover a prominent Cherokee family that lived in today's Shakerag area during the 1800s.
For more information about future events and upcoming meetings, visit www.johnscreekhistory.org.