FORSYTH COUNTY, Ga. — Forsyth County Schools broke ground Nov. 19 on an 81,000 square foot Performing Arts Center located behind the Board of Education Building on Dahlonega Highway.
The Forsyth County Arts and Learning Center, or FOCAL Center, will feature a 1,800-seat auditorium with a balcony, orchestra pit, dressing rooms, concession area and technical production areas.
The facility will sit adjacent to the three-story Academy for Creative Education (ACE) which will house Gateway Academy, Forsyth Academy and Forsyth Virtual Academy, the system's alternative learning programs.
"Of all the schools we've built, I'm especially excited about this particular project [ACE]," Forsyth County School Superintendent Jeff Bearden said.
"It shows that our community and school board supports alternative educational programs for our students."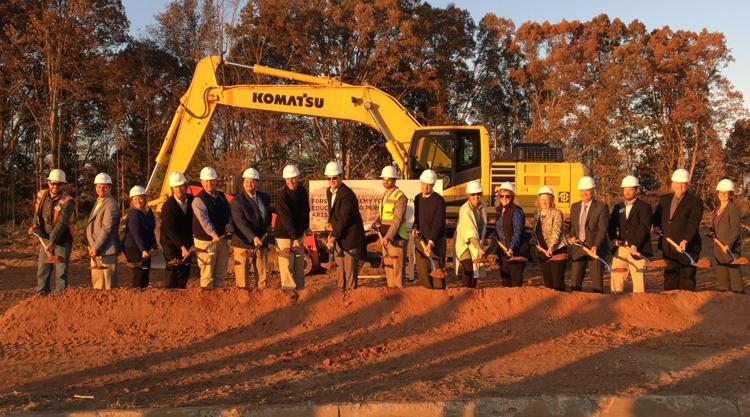 The county has owned the property for the project since the 1990s. Carroll Daniel Construction is the contractor for the project.
"We've been doing work in Forsyth County for a long, long time — over 50 years — and we're delighted to be in partnership with Forsyth County Schools and this is just another piece in that legacy," company President and CEO Brian Daniel said.
School district spokeswoman Jennifer Caracciolo said the name FOCAL Center honors the goal the school board hopes the building will achieve in the community — becoming a gathering place for all types of art and learning from around the community and beyond.
The whole vision for the performing arts center is about supporting the entire community and being a focal point for the arts, Caracciolo said.
School officials say they hope the center will be a space for all types of art programing, as well as a "learning lab" where students can learn the different aspects of art production.
Learning centers and schools are the hub of the community, so the FOCAL Center is going to be the hub of performing arts for the county, said District 1 Board Member Wes McCall. The facility is more than a place for kids to go and perform at, but it's also for other students to learn how to produce a show, including all the technical aspects, he said.
Funding for the project is coming from the school bond approved by voters in 2018, which included more than $282 million for new facilities projects.
"I would be remiss if I didn't thank the community for supporting these projects," Bearden said.
This project must be paid for without Georgia Department of Education funding. That's because the FOCAL Center is not an "instructional unit" and ACE's instruction is program-based, with state funding reverting back to the traditional schools where those students are enrolled, school system Director of Construction Tom Wening said.
ACE is proposed to be substantially complete by April 2021 and ready for the 2021-22 school year. FOCAL, which has a much more complicated design, is proposed to be substantially complete by the winter of 2021, Wening said.