JOHNS CREEK, Ga. — Leadership Johns Creek is raising funds to bring the work of globally renowned artist Kelsey Montague to Newtown Park. 
The social media savvy are probably familiar with Montague's work, even if they don't know her name. From New York to Nashville and across the globe, her interactive street art, most ironically murals of giant wings, have been shared by thousands.
Montague has been commissioned by Taylor Swift, Universal Studios and now, Leadership Johns Creek.
Leadership Johns Creek is a program that fosters local leadership talent through workshops and a community service project. This year's team #SeeTheCreek set the goal to create more public art in the city.  
"We wanted a project that would represent the diverse and varied aspects of Johns Creek, something that was positive in nature," Leadership Johns Creek mural team member Chad Smith said. "We also wanted it to be tangible, something we could point to with pride."
Working with Montague checked all the boxes, Smith said. Given Montague's popularity, the mural will bring new visitors to Johns Creek and support local businesses, the team says. Her mural in The Gulch in Nashville is estimated to have reached 10.5 million Instagram users in the first year, and more than 6,500 via Snapchat in two days. 
"We feel that this piece of art will help develop, energize and activate the city of Johns Creek," Smith said. "We don't really have a lot of public art, so this will be a first."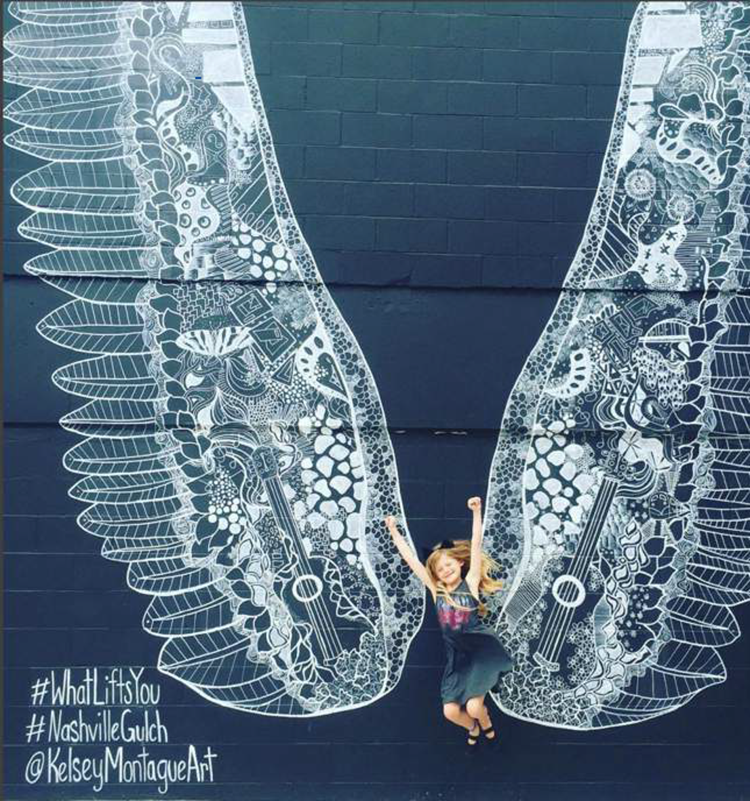 The mural's proposed location, which will be mapped on Montague's website, is on the south wall of the concession stand in Newtown Park across from the Mark Burkhalter Amphitheater. The mural is proposed to be 8 feet by 24 feet.
"We think that will be a big hit during the summer concert series," Smith said. "A lot of people will come to get their picture taken with it."
The proposed design, titled "Everyone Has a Seat in Johns Creek," will feature several eclectic chairs that visitors can "sit" on for photos. Each chair will represent an aspect of Johns Creek. The mural represents Johns Creek's diversity and inclusivity, Smith said. 
The mural will include the hashtags #SeeTheCreek and #WhatLiftsYou, Montague's signature tag. It will also feature a 3 foot by 3 foot wings for dogs.
"Obviously we have a large dog park there, and we think that will be a big draw as well," Smith said. "We don't want to forget our four-legged friends"
Leadership Johns Creek is partnering with Johns Creek Beautification for the project. The team is looking for support from the Convention and Visitors Bureau, Fulton County and corporate sponsors.
They are also crowdfunding the project at gofundme.com/f/seethecreekkelseymontagueinteractivemural.
The Johns Creek City Council approved the public art petition unanimously. Their only input was to ask the artist to try and make the mural accessible for people with mobility issues who may be unable to squat as the artwork was designed. 
"I'm super impressed," Councilman John Bradberry said. "Thank you, Leadership Johns Creek. I look forward to one day getting my own picture taken with my family sitting in those chairs."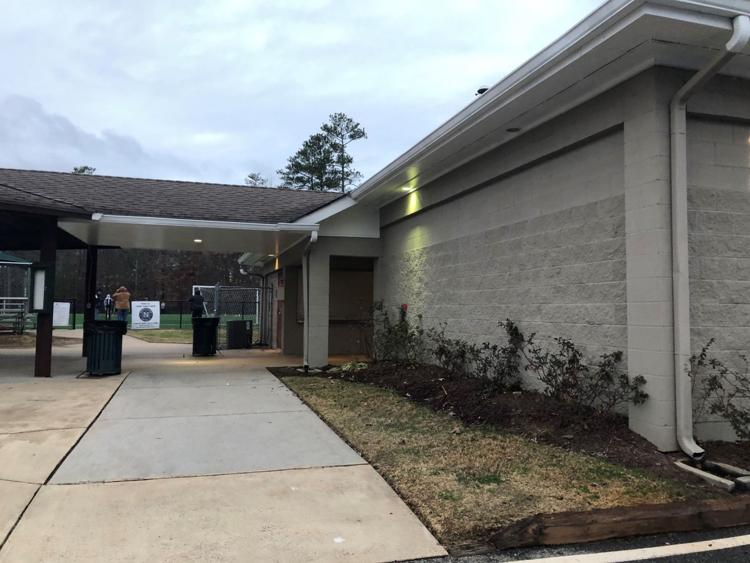 In its first 10 years, Leadership Johns Creek completed more than $150,000 in projects for the city, including the public art installation in the Newtown Park tunnel, the police mascot Billy Badge and jumpstarting the International Festival. 
"This is another example of why Leadership Johns Creek has been such a great program," Mayor Mike Bodker said. "I remember when it was launched, they said we're going to leave lasting legacies for Johns Creek. I can completely see how this is going to be a lasting legacy for Johns Creek. You will literally re-establish us on the map."
Bodker said he hopes there will be more murals like it in the eventual town center.