ROSWELL, Ga. — The fifth annual Summer Sippin' Roswell, which wrapped on Sept. 30, brought the community together to safely celebrate the end of summer while supporting the local restaurants. The event also served to crown the "Best Sips in Roswell" 2020.
This year's event was the largest to date with 51 participating restaurants, breweries and cafes each featuring a unique summer-inspired sip, with in-house and carryout options available. During the two-month-long event, patrons were encouraged to order sips at participating restaurants. Customers could then rate each sip they tried on the Summer Sippin' app or the event website to determine the "Best Sips in Roswell" 2020.
Organizers reported thousands of drinks were sold, and hundreds of customers participated. This year's winning restaurants are both Hispanic-owned businesses, with sips inspired by the flavors of Latin America. The 2020 "Best Sips in Roswell" first-place winners are — the "Blackberries Hot Volcano Margarita" at Fresco Cantina Grille in the alcoholic category, and the "VC-SHOCK" kombucha at Huh Natural & Real Food in the non-alcoholic category.
Last year's runner up, Fresco Cantina Grille, brought some sweet heat to the competition. Its Blackberries Hot Volcano Margarita is made with red chile-infused tequila, blackberries, lime, triple sec, agave nectar and topped with mango Raspado, which is a traditional Latin American summer treat of shaved ice and fruit syrup. Fresco opened in 2018 and has quickly become a local favorite, known for their fresh, made-from-scratch dishes and unique cocktails.
"The beginning of the pandemic was difficult, but Fresco shifted its business model to focus on online ordering and even launched a delivery website recently," said Paola Caceres, communications and office manager. "Summer Sippin' also helped us reach customers and increase sales. We sold about 350 Summer Sippin' drinks and saw a 5 percent increase in sales during the two-month-long event."
In the non-alcoholic category, first-time participant Huh Natural and Real Food created the competition's first kombucha. The "VC-Shock" is packed with Vitamin C and Peruvian flavor, made with passion fruit, cherries and goldenberry — a sweet and tropical fruit common in Peru. The cafe bakery opened in December 2019 and offers gluten-free and dairy-free dishes that are made with fresh, organic ingredients.
"March and April were very difficult for our restaurant, but we are gradually recovering," said owner and operator Sebastian Gracey. "Participating in Summer Sippin' helped us during this difficult time. We sold around 200 VC-Shock kombuchas, and over the last two months, our sales have grown by 10 percent each month. Although this year's projected sales are lower than we anticipated, we are seeing things improve day by day."
At the onset of COVID-19, Roswell Inc wasn't sure if Summer Sippin' would happen at all. The organization initially halted all plans for the event while their team focused on informing and supporting the local business community as they navigated the pandemic. But as the weeks went on, it quickly became apparent that the food and beverage industry was going to be one of the hardest hit sectors.
"Roswell is a culinary destination, and support programs such as Summer Sippin' and Roswell Restaurant Week not only help restaurants increase sales, but they also spread regional awareness so that the food and beverage industry can continue to thrive," said Steve Stroud, executive director of Roswell Inc.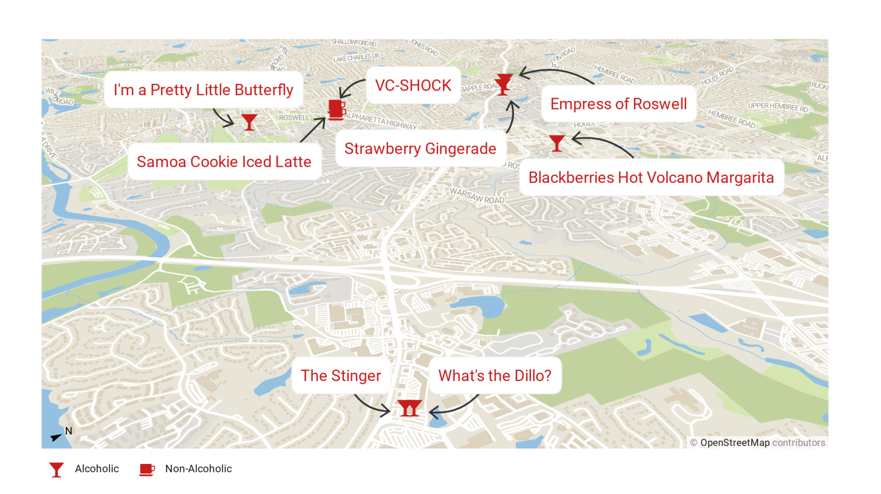 After much consideration, Roswell Inc determined that Summer Sippin' would provide vital marketing support as the industry looked toward reopening and recovery. The event was rescheduled for August through September, and Roswell Inc announced that it would waive all participation fees for the first time ever. Additionally, with safety remaining the top priority, carryout and take-home options were encouraged and strict "Sip Safely Standards" were implemented.
 "While this industry has been significantly impacted by the pandemic, we are seeing vast improvements as both businesses and consumers are learning to adapt," Stroud said. "The winter months will require restaurants to further pivot, but we will continue to support them through these efforts and plan to announce dates for an extended Roswell Restaurant Week very soon." 
Summer Sippin' is an industry support event by Roswell Inc and is sponsored by Gas South and EDGE Business Solutions.