ALPHARETTA, Ga. — The building at 41 Milton Avenue in downtown Alpharetta has a history. Prior World War II, it was rural, vacant land. By 1947, it was the site of the Alpha Theater, where locals could watch movies.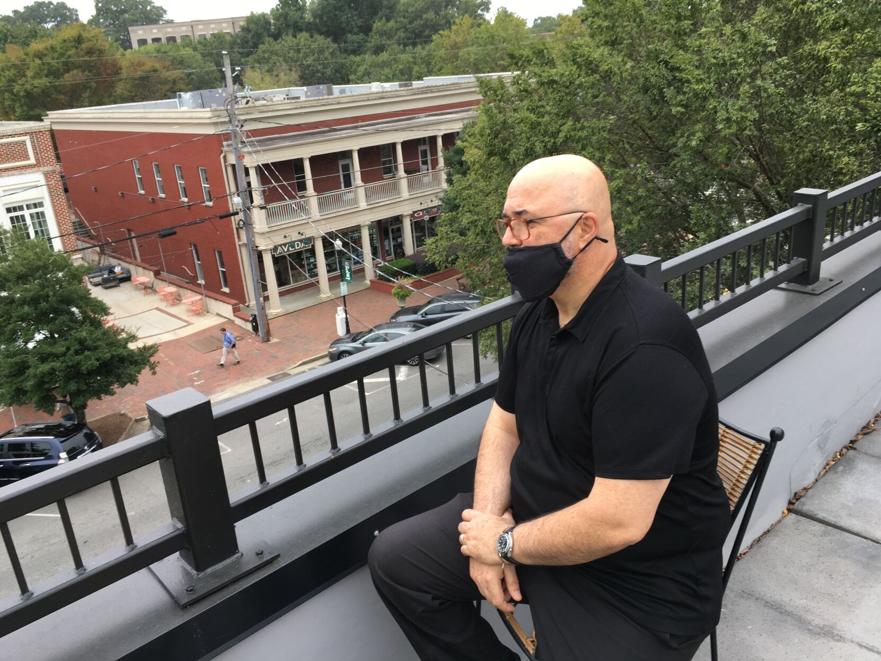 "I have a picture of a poster of the movies that they showed and a copy of a ticket stub," said Matthew Khodayari who owns the site.
Khodayari said he knows and loves the history of the old theater space. He has also kept his eye on it from across the street, where his family currently operates Aria Salon.
"I never thought that I would own it," Khodayari said.
Khodayari and his wife, Mechelle, made the purchase in 2014. In the years of owning and renovating the space, it was rented out to several other businesses. The family always had plans to bring Aria Salon from 10 Roswell Street to the Milton Avenue location. But once work began on a new hotel next-door, the Khodayaris envisioned something more.
"It took a life of its own. It was supposed to be a one-floor hair salon," Khodayari said. "And then my wife said, 'What if we had an apartment there and lived above the shop?'"
The idea was intriguing to Khodayari, who calls Downtown Alpharetta a pretty cool place.
"Live music everywhere, people sitting outside," he said. "Kind of reminiscent of European towns."
Khodayari said he is looking forward to getting back to that lifestyle once the threat of the coronavirus dissipates.
The first of its kind in city
City leaders informed the Khodayaris they are the first owners of a retail-residential space in Downtown Alpharetta. Khodayri said the new Aria Salon is part of the city's big plan to be pedestrian-friendly and resident-friendly.
"Downtown Alpharetta was never residence-friendly, I guess," Khodayari said. "In the sense that, it was only shops around here. No multi-use or multi-floor residence. Now we have apartment complexes and condominiums and townhomes."
He sees this as good for businesses, allowing them to serve a wider clientele of multicultural customers and families. But there have been some challenges.
"The water is owned by the county, not the city. That has been a big issue for us," Khodayari said.
With the help of Alpharetta Councilwoman Karen Richard, some progress is being made. After a face-to-face meeting outside of the building, Khodayari said the salon expects to receive their permit within a week. Then, it's up to Fulton County to build the infrastructure.
Beyond that, he says the city is not providing any further incentives as leaders turn the block into an entertainment hub. Khodayari said Alpharetta stopped offering grants about five years ago.
"If I painted the place, put lipstick on this pig, they would have given me some money," he said. "Now, they don't have to do that anymore because this place is pretty hot."
According to Khodayari, the overall cost and construction of the property is about $3.5 million. The salon owner says he's making the extra investment to build for the future.
The business level of the property is 27,750 square feet. The front door opens to a retail area, which is about one-third of the space. There will be 26 stations, spaced 6 feet apart, for stylists to work with customers. Hair styling and extensions, makeup, facial hair removal, threading and waxing are among the treatments Aria Salon will provide. A room was also built for a medical professional to provide facial rejuvenation services. Khodayari said he wants the business to bring the serenity of a spa into an active salon.
There's much more above
A second level provides a multi-room space, where managers can work and provide education to stylists. It also includes a spacious employee break room and an area where the social media director can promote the business.
An elevator can whisk the family and their guests to the top floor's luxurious living area. The stylish 3,000 square foot space includes three bedrooms, two master bedrooms, and four bathrooms. There is also 1,700 square feet of space that will serve as an apartment.
The Khodayari family has styled hair in Alpharetta for 20 years, but the family has been in the hairstyling business for three generations.
"I think hairdressers can change lives," said Khodayari, who calls himself an accidental hairstylist. "How people feel about themselves. It has a lot to do with how they get a job. I joke that I don't know how many kids have been conceived because of us."
From the roof of what he calls his forever home, Khodayari overlooked the downtown Alpharetta streets and envisioned throwing cocktail parties and Christmas celebrations with his family and staff. He said he also looks forward to ending a busy workday with home just feet away.
For now, Aria Salon is hoping for a grand reopening in their new location in mid to late November. They're also thinking of renaming the space to the Alpha Building in honor of the old theater.