ALPHARETTA, Ga. ⁠— What started out as a simple venture into food delivery for a group of Alpharetta High School students has quickly ballooned into a vital service delivery life-saving equipment for local hospitals.
The service, Pluto Delivery, is entirely run by local high school students and has donated tens of thousands of personal protective equipment to healthcare workers. And their efforts have attracted some national attention, with help and advisement coming from top companies and universities.
"We've never done anything like this before," said Chief Executive Officer Edward Aguilar, a junior at Alpharetta High School. "It was crazy going into it, a trial by fire… My email went from being spam to being Stanford professors."
It began in January 2020, when a handful of Alpharetta High School students entered a robotics competition and ordered some food for delivery. But the bill, which came out to over $70, astonished the group, said Chief Operating Officer Shourya Seth, a junior.
"There had to be a better way [of food delivery]," Seth said. "We had to find a solution for this."
About a month later, the idea for Pluto Delivery was born, and in March, the group conducted a soft launch delivering to Alpharetta High School staff.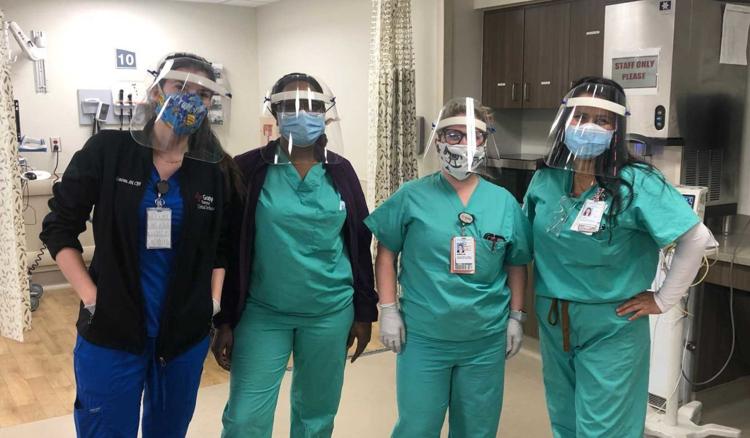 It was about a week after the launch that the COVID-19 pandemic hit Georgia, and schools closed. Like other businesses and organizations, Pluto Delivery found itself on hold and facing an uncertain future.
Aguilar said several people advised them to simply wait out the pandemic and revisit Pluto Delivery later, but they were determined to find a way to help people.
It didn't take much for them to switch from food delivery to personal protective gear, including facemasks, hand sanitizer and disinfectants. Pluto Delivery representatives spoke with 15 Atlanta and Alpharetta area hospitals and partnered with organizations such as Atlanta Beats Covid to create a strategy for delivering what soon became tens of thousands of donations to healthcare workers.
So far, the team has delivered upwards of 34,000 pieces of equipment, and the numbers have been growing rapidly, Aguilar said. Pluto Delivery is expecting to soon expand into other areas in need, such as Albany, an epicenter of the state's outbreak.
The experience running Pluto Delivery has been at times surprising, with the team leaning on a whole set of skills not taught in their classes, said Chief Marketing Officer Manu John, a junior.
To cover some of their gaps in experience and address their growing frustrations with changing variables and effective operations, Pluto Delivery representatives reached out to universities like Yale and Stanford and companies like Converse and Delta Airlines.
"We thought maybe we don't need to figure this out," Aguilar said. "We can find people who are already incredible in their field, who are already experienced, and call them, send them an email."
The idea bore fruit. Soon, their email accounts were inundated with information from experts in fields such as organizational management, marketing and logistics.
"It's been unreal," Aguilar said. "We're sitting there, connecting with people, and I recognize one of the names that adds me back and replies to my email… I look over on my desk and see this guy's book, 'Contagious: Why Things Catch On,' [by Jonah Berger], a book I read two years ago…
"Every day has been like that. It's incredible to see how many people care about what we're doing and support what we're doing."
For now, the team said it's too early to nail down plans are for the future, but depending on its success, they want to continue involving Pluto Delivery in some manner.
"We don't want to stop," Aguilar said. "If it's not medical delivery today, maybe it's soup kitchens or homeless shelters the next day… Our work here, despite what we've done, there's still so much."
For more information, to get involved or make donations, visit pluto.delivery.