ALPHARETTA, Ga. — The sanctuary walls of St. James United Methodist Church have stood the test of time for 153 years.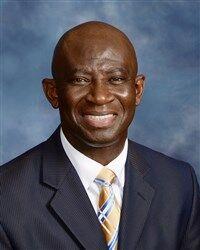 This predominantly African American church has survived Jim Crow, world wars, civil rights unrest, economic crisis and now a second pandemic. 
The church was incepted Feb. 4, 1867 in a small single-roomed building on one-fourth acre on Cumming Street. The church spent $25 on the property, a month's savings at the time. 
As recently as 1999, the church faced dissolution because of diminished attendance. The Rev. Marvin Moss was tasked with closing the church.
Instead, he went to grocery stores, retail shops and high school sporting events striking conversations and inviting African Americans to attend service. His energy and clever sermon titles are credited with growing church membership to 1,800. 
In 2004, the church moved to its current location on Webb Bridge Road.
In September, St. James held an anniversary service showcasing powerful vocals, congratulatory messages from parishioners and clergy, and a sermon from the Rev. Dr. Gregory Williams about rejecting fear and replacing it with love and sound mind. 
Williams recently succeeded Senior Pastor the Rev. Dr. Michael McQueen, who has taken a regional leadership position with the North Georgia Conference. During McQueen's 14-year tenure, the church increased its presence in Alpharetta, growing its congregation and strengthening its voice in the community.
"I can't say enough how grateful I am for our relationship with St. James UMC," said John Robison, director of Alpharetta Public Safety. "Their congregation and staff are truly a blessing to our community, and on a personal note, I am especially grateful for the support of Dr. McQueen."
St. James was helpful in creating an opportunity to discuss in an open forum any concerns related to racial tensions, Robison said. Community involvement is a high priority for the church. The May killing of George Floyd at the hands of police in Minneapolis brought racial injustice to the forefront of the American conscience. Raw emotions erupted into nationwide demonstrations and strikes calling for societal transformation that included changing police tactics. 
A young adult member used St. James' parking lot in July hoping to gather 40 people in solidarity with other youth marching to Alpharetta City Hall. The crowd grew to about 200 and represented an intersection of society. 
Associate Pastor the Rev. Tavares Stephens recalled it as an urgent response of togetherness.
"It created incredible synergy where we had the mayor, Pastor McQueen at the time, different sororities, fraternities, other concerned citizens, members of the church, and it was a multi-ethnic gathering of people," he said.
Stephens, a former educator, is leading a program called "The Race Forward," tasked with holding difficult conversations about race. A men's Bible study group called "Bridging the Gap" spun off from this program. The study includes Alpharetta First and Mt. Pisgah United Methodist churches. 
Stephens said he believes listening to other's stories without judgement is needed.
"If we would give each other that kind of benefit of the doubt, both ways, it would create a better ability for us to be comfortable being uncomfortable," he said.
The Rev. Williams says he is pleased to celebrate this year's anniversary.
"Today we are excited because we are standing on the shoulders of giants, if it was not for [our ancestors], we would not be here today," he said.
Williams says the church will continue to tackle difficult issues and conversations.
"I think part of the issue right now in our world is that we are not talking to each other," Williams said. "If we can begin to talk with one another rather than just assuming because a person might be white or whatever [race] that they think a certain way. That's not always the case."
For Williams, change starts in the home. "If every house, one house at a time, works to bring about change, we can change the world," he said.