ROSWELL, Ga. — Roswell has made significant strides in business last year and is poised to continue that momentum, according to reports unveiled at the mayor's annual State of the City address.
Over 300 elected officials, business leaders and community stakeholders packed the Country Club of Roswell past capacity Jan. 24 to hear about the future of the city. The event was hosted by Roswell Inc, the city's economic development arm, and sponsored by over 70 local businesses. 
One of the biggest indicators of Roswell's progress, according to Roswell Inc Executive Director Steve Stroud, is the growing daytime population.
For the first time, the number of daytime visitors, at about 106,000 people, is higher than Roswell's residential population, of over 96,000 people, according to estimations released by the agency.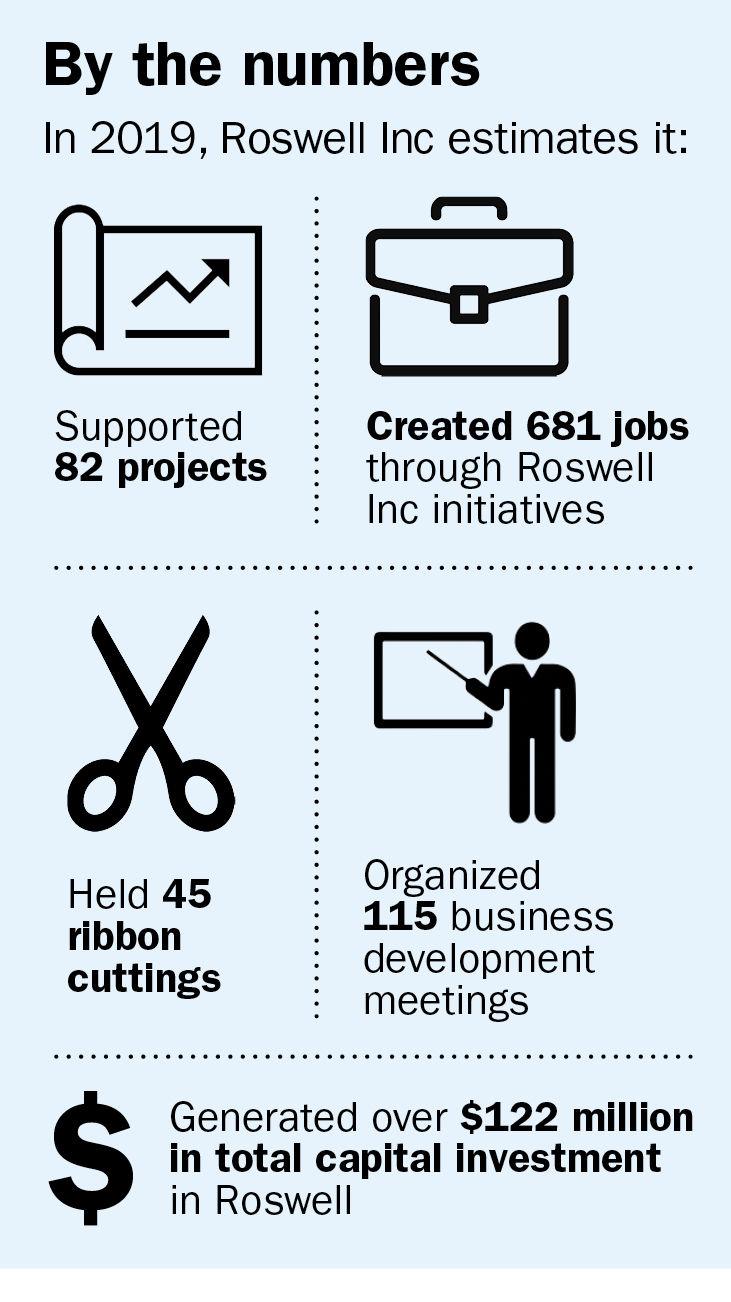 "People are coming here to work in the city of Roswell," Stroud said.
That trend is backed by one of the lowest unemployment rates in the area at 2.8 percent, he added. 
And one the largest, burgeoning industries in Roswell, according to Roswell Inc, is healthcare, which Stroud said will be his organization's top priority in 2020. 
Roswell Inc will also be courting the Georgia Hispanic Chamber this year to strengthen Roswell's Hispanic business community.
"We believe there's a very strong void there," Stroud said. "We want to fill that void." 
Stroud, along with Mayor Lori Henry, also shared updates about one of the city's most highly anticipated projects: the Southern Skillet property on the corner of Alpharetta Street and Norcross Street.
The land has been sitting idle since the city acquired the property in 2016, but last year, the Downtown Development Authority chose real estate development firm S.J. Collins Enterprises to revitalize the property. 
Plans for the new Southern Post mixed-use development include 90,000 square feet of loft-style, open concept office space, a new grocer and housing. 
"This project gives our businesses a reason to stay and grow with us," Henry said. "It will attract new businesses to our community. [It's] a transformational project for our downtown area."
A new 125-room boutique hotel, expected to break ground this year, will also be located next to the Southern Post development. 
During her presentation, Henry also went over major transportation projects that are expected to relieve traffic and improve connectivity in Roswell. The changes include an updated Holcomb Bridge Road and Ga. 400 interchange, a new bridge over Ga. 400 to the north through Big Creek Parkway, a third bridge over Ga. 400 to the south through the GDOT express lanes project, and the Historic Gateway project, which will eliminate the reversible lane system on South Atlanta Street.  
"For the first time in my lifetime, I am confident that we will be able to ease traffic congestion in our city," Henry said. "We have a number of transportation project that will transform travel in Roswell, whether by vehicle, bicycle or by foot."
For more information and to view Roswell Inc's annual report, visit roswellinc.org.