ROSWELL, Ga. — After years of falling short of funding, Roswell North Elementary School's dreams of having an outdoor classroom are on the way to becoming reality.
The Roswell North Elementary School Foundation, a nonprofit established in 2009 dedicated to supporting the school and its programs, recently released record-breaking numbers from its 2019 campaign. From Oct. 24-Dec. 31, the foundation raised more than $71,500, breaking records in all fundraising categories, including family giving, staff giving and business sponsorships. 
The foundation is the school's sole source of funding for its Licata Science Lab, Life Science Extension and garden, including the salary of full-time science and garden teacher Liz Rains. Roswell North is now one of only two elementary school-level science labs in North Fulton County, according to the foundation.
This year's influx of donations, along with a $10,000 grant from the Roswell Wine Festival, will also help the school create a new asset for students: an outdoor classroom. It's an addition the school has wanted for a long time, said Foundation Board President Lyndsay Slocum.
"Educators at Roswell North have long recognized the value of outdoor learning," Slocum said. "Multiple studies suggest that outdoor learning boosts student motivation and competence, reduces stress, improves moods and increases engagement. The outdoor classroom will increase the amount of time students spend learning outside and bring more of these benefits to every child at Roswell North."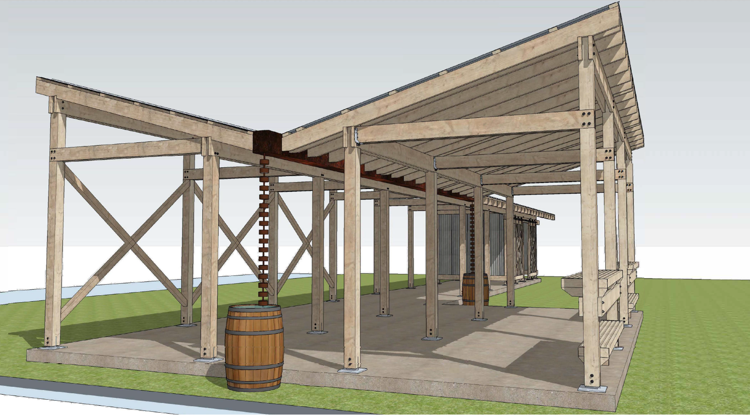 Until now, students have used the outdoor learning amphitheater at Roswell Area Park, adjacent to the school. But the hot Georgia sun has limited use of the amphitheater, Slocum said.
A covered outdoor classroom like what Roswell North Elementary School is planning could provide an alternative on those hot days.
"The covered, open-air classroom at Roswell North will be a space for hands-on learning across all grade levels and concentrations," Slocum said. "Any teacher will be able to schedule time in the space. Students may work with seedlings, dissect specimens, paint landscapes, review math lessons, read books, write stories, rehearse music — all while cultivating a love for the outdoors."
Project plans for the outdoor classroom are already underway with help from Southeastern Engineering Inc. and Wendel Companies, which are donating time for the project. The plans are expected to be brought before Fulton County Schools next month. 
The money raised by the Roswell North Elementary School Foundation will also be used to fund other projects, like the Monarchs Across Georgia Program, dissection supplies for every grade level and scholarships for the fifth-grade field trip to Jekyll Island. 
To learn more about the foundation, its projects and sponsorship opportunities, visit RNEFoundation.com.