ROSWELL, Ga. — Roswell's new initiative to attract the film industry has borne fruit, most recently with the filming of a Lifetime original movie at City Hall. And the city is prepared to extend efforts further.
It's all thanks to the Mayor's Movie Task Force, which was created this summer to analyze the industry and market Roswell as a film-ready city.
Mayor Lori Henry praised the task force's successes.
"We are lightyears ahead of where we were even a year ago," she said.
The task force — made up of staff from the City of Roswell, Visit Roswell and Greater North Fulton Chamber of Commerce — identified five areas they want to tackle to make Roswell more film-friendly, including perception, resources, ease of process, opportunities and recruitment.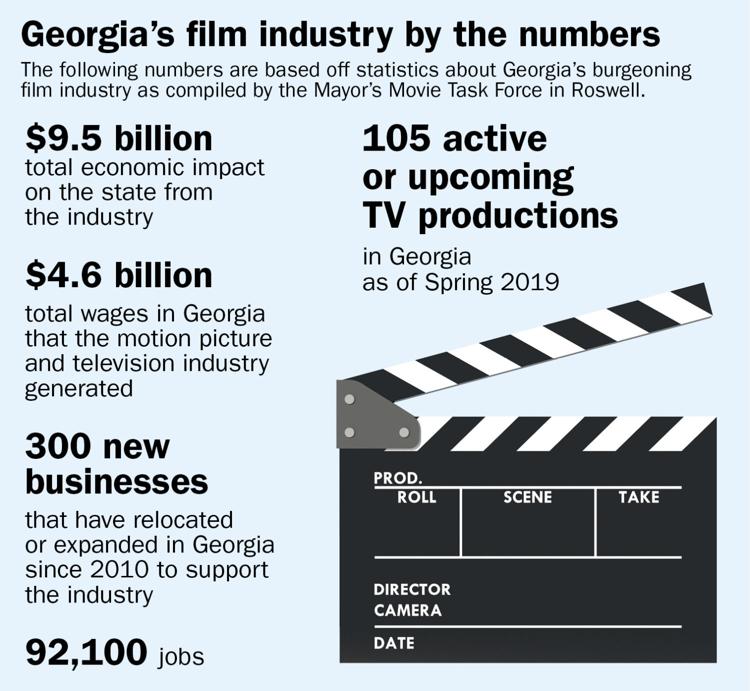 According to Visit Roswell Executive Director Andy Williams, Georgia is currently the number one filming location in the world. But when film scouts search for filming locations in the North Atlanta area, they are directed inside Atlanta.
The Mayor's Movie Task Force is changing that, with a newly updated Film Roswell page on the Visit Roswell website. The city has worked with ReelScout, used by the film industry to scout locations, to create a section on the site featuring only Roswell locations and businesses. 
Williams said there are several benefits to bringing the film industry to Roswell. 
Films, for example, provide jobs for local businesses, such as caterers, carpenters, electricians, hair stylists, makeup artists and plumbers.
Roswell felt those benefits in November with the Lifetime filming of "You Can't Take My Daughter," which generated about $78,500 for the city in four days.
And Roswell has a unique draw for the film industry: it's vacant jail.
"The fact that we have a vacant jail right now is huge," Williams said. "Not a lot of communities offer that. It's one of the most highly sought-after pieces of inventory."
Henry learned about the attractiveness of the jail firsthand at an Atlanta convention for the film industry.
"I said we've got an empty jail in Roswell, and you could have heard a pin drop," Henry said. "Everybody, all of these scouts, came rushing at us."
Since the inception of the Mayor's Movie Task Force, it has received 34 film leads. Of those, it won five, lost 20, has four active and has five inactive.
By comparison, between January 2018-June 2019, Visit Roswell had about half that, at 16 leads.
Some of the latest leads, like Lifetime, are big studios such as Marvel, DC and Warner Bros, Williams said.
"We're starting to land really qualified production companies," he said. 
Some of the common reasons for losing a lead range from the company deciding to build a set at a movie studio, the business or property owner declined interest, Roswell didn't have the needed asset or inventory or physical space didn't align with the need. 
"What we need to prepare for is that we're going to lose a lot," Williams said. "I don't mean that in a bad way. I mean that because the quantity of leads we're going to get is going to increase, and every other community, in some form or fashion, is touching film. If location scouts don't see what they like, they're going into another community or simply go into a film studio and build it." 
Going forward, the task force already has several plans to increase its inventory and generate more leads. 
It plans to soon establish quarterly community workshops to educate property and business owners about working with the film industry and how to post listings on ReelScout. It is also planning to create a sizzle reel advertising the city and its assets and to create incentives for filming in Roswell.