ROSWELL, Ga. — Nature lovers and history buffs have a newly renovated area to explore at one of Roswell's most beloved parks. 
On Oct. 31, Roswell officials and residents along with National Park Service members celebrated the completion of Phase III of the Old Mill Park Restoration project. 
The project includes an ADA-accessible elevated boardwalk and connecting trails at Old Mill Park, which borders Vickery Creek Park on Mill Street. The boardwalk gives visitors the chance to view ruins from the Old Mill that were previously hard to access.
The ruins were previously covered with overrun kudzu until this past spring, when goats were used to clear the area in an effort to keep the adjacent river free of chemical weed-killer, said Roswell Community Relations Coordinator Jennifer Morrow.
A focal point beneath the boardwalk is the Mill's original turbine, which was used for cotton processing until 1975, she said.
"[This project] tells the story about why [the mill] is important and the role it played in forming Roswell," said Taylor Smith, the project supervisor and a Roswell Recreation and Parks employee.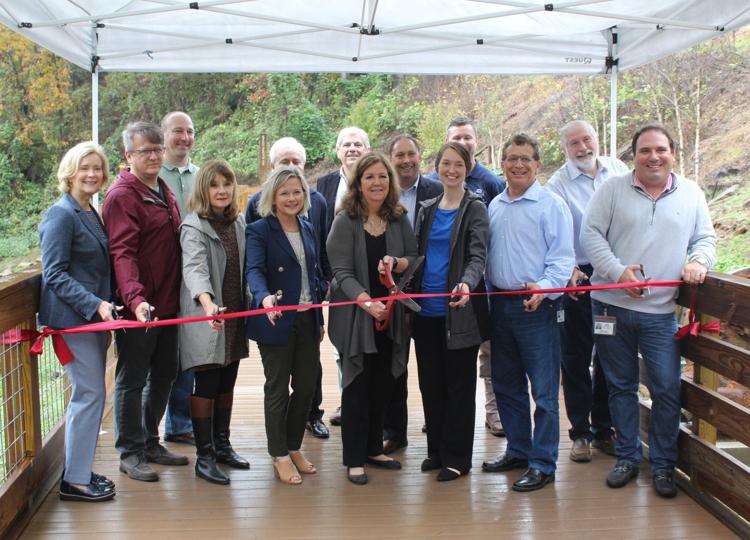 Director of Recreation and Parks Jeff Leatherman said Old Mill Park was a treasured rarity in that it is steps away from a national park, Vickery Creek Park.
"There are very few places that you get a chance to come down, enjoy a local park, and then step across the beautiful covered bridge into wilderness," Leatherman said. "This is that place where you can connect with that natural environment."
Mayor Lori Henry called the park a jewel.
"It's not only a jewel because of the history, but also the recreation," she said. "This is one of our most well used and frequented parks." 
Recreation Commission Chair Debra Ewing added that trails are frequently the number one request in community surveys the commission sends out. 
The restoration project was completed by architect Richard Todd and Associates and contractor Macallan Group. The total construction cost was just shy of $680,000. More than two-thirds of that cost, $432,000, was paid for by hotel/motel tax funding.
Councilman Matthew Tyser, liaison to the Recreation and Parks Department, said even more may be possible with the city's parks once new hotels in Roswell open and start contributing to the hotel/motel fund.