ROSWELL, Ga. — Two years ago, Roswell began using gross tax receipts and profitability to calculate tax rates for the 4,600 businesses operating in town.
But in 2019 and 2020, the city based them on an IRS profitability table that cut the tax rates for many businesses in half. City officials now contend that was a mistake.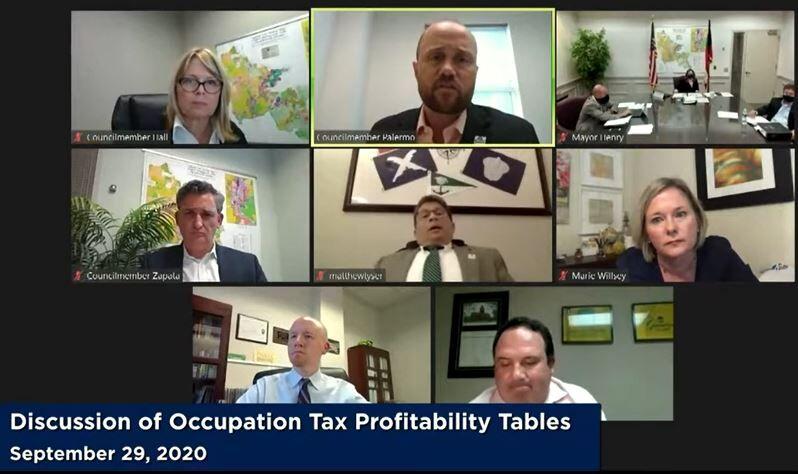 At a Sept. 29 work session, members of the City Council discussed the prospect of switching to a new profitability table next year, one that could raise the tax rate for some businesses above 2018 levels.
That idea was panned by at least three council members who claimed such considerations should be reserved for after the COVID-19 crisis.
"Quite frankly, this is not the time to have this conversation," Councilman Matt Judy said. "We're in the middle of a pandemic. Businesses are not thinking about changing tax rates right now. They're thinking about surviving."
It was all part of an at-times explosive discussion where Director of Finance Ryan Luckett pitched the new occupation tax model.
The annual assessment, which is essentially the city's business tax, is predicated on a formula that includes North American Industry Classification System subgroups known as NAICS codes, gross receipts and IRS statistical tables that gauge industries' "profitability ratios" by using nationwide averages. The tables are an integral piece of the formula to calculate each business' tax rate.
Roswell city leaders voted to go to a new method for calculating commercial taxes in 2016. When the ordinance took effect in January 2018, the city applied its tax using a 2008 IRS profitability table designated for "all business types." But in 2019 and 2020, the city switched to a 2013 IRS table for "active corporations."
Not all businesses benefitted
Luckett showed council members how the change cut in half the tax rate for real estate companies. Other classifications of businesses, such as education and healthcare, saw even steeper drops. Meanwhile, the tax rate for restaurants remained the same.
Luckett recommended that for 2021, the city switch to an updated 2015 version of the same "all business types" profitability table it used two years ago.
Roswell collected $1.6 million in commercial tax revenue in 2019. That's almost $600,000 less than what was projected for the year. Luckett accounted for the shortfall, saying those projections were based on IRS national averages because the city had a new commercial tax model. That meant the city's finance team had no data from local businesses to work off of during the 2018 budget process.
Councilwoman Christine Hall questioned the deficit and called for last week's discussion to switch to the new profitability table.
She said city officials have a fiduciary responsibility to use the correct data, but she invoked federal funding from the Coronavirus Aid, Relief and Economic Security Act as a possible measure to offset the tax increases for struggling business owners.
"There are opportunities to do a Roswell CARES Act that may not necessarily have to financially impact other taxpayers," Hall said. "We can do things like look at the 2020 numbers in arrears to base the 2021 occupational tax on. Those numbers will be lower, and we can do that going forward."
Councilman Marcelo Zapata noted that about 70 percent of Roswell's tax revenue comes from property taxes. He called City Administrator Gary Palmer out for the "error made in the calculations of our occupational business license tax during the last two years," claiming it may have cost the city as much as $1 million in revenue.
"We need to correct and fix the error, be consistent and restore the original correct IRS profitability by industry table that contemplates all business types," Zapata said. "And bring back fair taxes for homeowners and businesses."
Since the beginning of the year, Roswell has been looking at ways to reduce the disparity between tax rates for its high-profit businesses, such as apartment complexes, and those with traditionally lower profit margins, like restaurants.
Councilman Michael Palermo had originally proposed that the city study tax models for surrounding municipalities. That led to a discussion about adjusting Roswell's commercial tax during a June 9 Administration, Finance and Recreation & Parks committee meeting. The council and committees have discussed the issue on at least three other occasions.
At the Sept. 29 work session, Palermo concurred with Zapata's assessment that homeowners have subsidized the city for its accounting error. He said he supported switching to the new profitability table only if it was "revenue neutral" and didn't amount to a heavy tax burden on small business owners.
Mayor Lori Henry implored council members to "stick to the facts" and chided board members for "pointing fingers," though she didn't call anyone out by name.
Zapata responded to her criticism later in the meeting, saying he was advocating "accountability and responsibility." But when Zapata again took aim at Palmer for what he deemed a lack of oversight, Henry cut him off with an even stronger rebuke.
"How many times do I need to read this ordinance to you?" she said. "It was followed the way council wrote the ordinance and implemented it. So please don't go down this road with me because there was no error. They followed what they were supposed to be doing. Now is it the right way to do it? Perhaps not. But that's on us."
The mayor asked council members to advise Luckett on whether they wanted to change the occupation tax profitability table and suggested they develop a five-year plan for how to move forward after the pandemic. But the board could not reach a consensus.
Henry said she would discuss the matter with each board member individually in preparation for another report at the Administration, Finance and Recreation & Parks Committee's Oct. 13 meeting.