ROSWELL, Ga. — Amid the uncertainty wrought by the COVID-19 pandemic, one Roswell family has stepped up to strengthen community ties.
The effort has culminated in the "We Are Roswell" campaign, designed by resident Nicole Howell and her family. She is creating and disseminating yard signs reading, "Together We Are Roswell" in a show of solidarity and support during the trying times.
"I had the idea several weeks ago [in late March] with the coronavirus and shelter-in-place order," Howell said. "Roswell is such a great town, and I figured that people would love to do something at their homes to show that they love the town and that they're supporting each other… It's a fun way for people to help when they're not so sure what to do."
Howell sells each sign for $24, with all proceeds going to local charities to support neighbors affected by the crisis. Currently, Howell has been donating funds to a local school meal program started by Wild Slice Pizzeria owner Mike Thomas and his wife Cristy, a special needs kindergarten teacher at Esther Jackson Elementary School.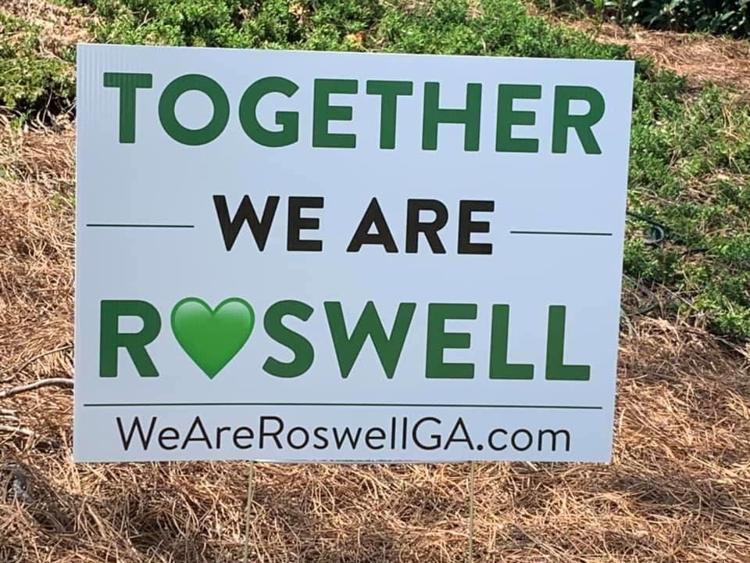 The funds go to local restaurants, which in turn create and distribute meals to students in need. Several area restaurants are participating, including Gracious Plenty Bakery & Breakfast, PURE Taqueria, From the Earth Brewing Company, Big Oak Tavern and American Pasta Factory.
"The program supports more than one aspect of the community," Howell said. "It's such a great thing to do, because it supports local restaurants, but then it also helps hungry kids that are right here going to our schools in Roswell."
Thomas has been working with Howell to spread the funds to different restaurants each week. So far, Howell said she has donated more than $5,000 from about 450 yard signs, with new orders coming in every day.
This is Howell's first foray into a community campaign and fundraiser. She said the idea was born out of watching residents band together during times of tragedy and hardship.
"I was thinking about the way a lot of times Roswell will decorate their mailboxes during difficult times," Howell said. "I thought maybe we could try something similar to that. That's when I decided a sign with an uplifting slogan would be something people would want to put in their yards."
All-in-all, Howell said, the campaign has been a win-win for everyone, including participants, restaurants and students.
"It gives you a sense of pride in your community," Howell said. "We're not in this alone. We're all in this together. We're all trying to do our part to help our community and stay positive and do good for others, because this is a really difficult time."