ROSWELL, Ga. — Roswell has selected a landscape architect and design firm to begin preliminary improvements and developments for the city's long-anticipated Riverparks Master Plan, especially along the Ace Sand property.
In its regular online meeting April 27, the City Council voted unanimously meeting to contract with Starr Whitehouse for an amount not to exceed $295,291. The vote came with a budget amendment to supplement unexpected budget shortfalls because of the pandemic.
Councilman Mike Palermo abstained from voting on the item, stating concern over the budget amendment decision.
The Riverparks Master Plan, passed in 2016, outlines suggestions for improvements along the city's riverfront parkland on Riverside Road, from Don White Memorial Park west to Willeo Park. An economic impact analysis, conducted 2018, helped to identify project priorities.
Out of that analysis, the city identified the Ace Sand property on Riverside Road near St. Andrew Catholic Church as a top concern and recommended improving it as part of the first phase.
The parcel is the only city-owned riverfront property not currently developed as a park and could provide some of the greatest opportunity for a new development, the study states.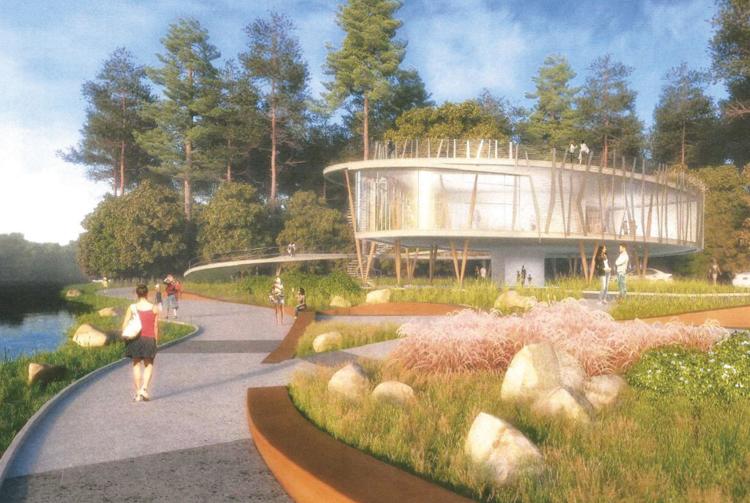 "Ace Sand is essentially new ground from a park development perspective," said Recreation and Parks Department Director Jeff Leatherman. "It is now currently only available as a temporary parking lot."
The master plan envisions a somewhat spiral-shaped facility on the site that could serve several possible purposes, including as event space and as a viewing deck for the river. The report also identifies several areas that could include food and beverage service facilities along the river, including at the Ace Sand property and at Azalea Park. Full-blown restaurants, however, may be too tricky to pull off, Leatherman said.
"Restaurant is not the word that we used in the economic impact report," he said. "It was quicker service, fast service, casual, café-style food service and seating areas."
Originally, the project was to be funded through the general fund and hotel/motel fund, but the COVID-19 pandemic has thrown projected budgets off-kilter. Staff said they now anticipate a shortfall of $52,000, which could be supplemented by an additional revenue stream from the impact fee fund.
Palermo said he was fully supportive of the master plan but was concerned about this change in budgeting.
"My hesitation tonight deals more with the budget aspect," he said. "There is some slight moving around of where the money is coming from… Literally, next month, we'll be going through the budget and all of the allocations. That's when I'd prefer to be discussing where the money is coming from, budget amendments, etc."
Palermo ultimately abstained from voting on the item.
Mayor Lori Henry said there is some incentive to be timely with the project.
"I feel quite strongly that we need to be forward thinking," she said. "The reason why I say that in this case is if we have a shovel-ready project in the Recreation and Parks Department, we can move forward in grant funding and recovery funding… I would just like to see us get to the point of a shovel-ready project in our Riverparks Master Plan."
Councilman Marcelo Zapata also cited some concern that information about other bidders was not readily included in the agenda packet
"There seems to be a pattern here of not presenting the amount of the other company's bids," he said. "Hopefully, one day, we'll have these numbers ready when we have a discussion of this magnitude. I don't appreciate not having these numbers now."
Leatherman said he anticipates the city will be in the design process stage for the project for about 6-9 months.