NORTH FULTON, Ga. — Roswell and Alpharetta officials have enacted measures to keep most public facilities closed for the time being.
On April 28, Roswell Mayor Lori Henry updated to her April 13 executive order to reiterate that some city parks and buildings are not accessible to the public. These areas include athletic facilities, park parking lots, outdoor gym equipment, playgrounds, Old Mill Park at Vickery Creek, the Heart of Roswell Park, Barrington Hall and its grounds, and Bulloch Hall.
On Friday, Henry updated the order, extending Roswell's state of emergency through June 12. The mayor also announced the city will open parking lots at most Roswell parks. However, to ensure support for physical-distancing measures, the facility amenities will remain closed.
"I know we are all looking forward to reopening our city and getting our lives back to normal," Henry said. "But we will be taking a very measured approach in reopening Roswell. We will do this keeping in mind the health, safety and welfare of our citizens by following CDC and Georgia Health Department guidelines."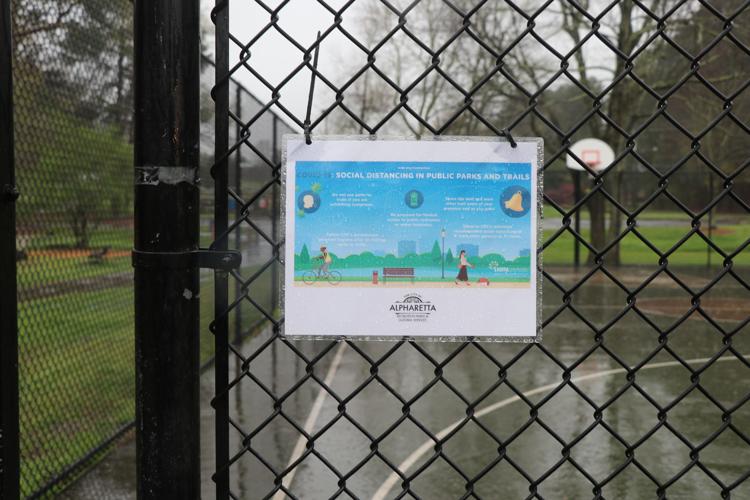 Georgia Gov. Brian Kemp's statewide shelter-in-place order expired after April 30 but remains in place for high-risk populations through May 13.
Meanwhile, the Alpharetta City Council held a special session April 30 to reenact portions of its emergency order which was set to end that same day.
The council unanimously passed a resolution to continue closure of public buildings and park facilities until the end of May. Walking trails and the Big Creek Greenway remain open to pedestrians who practice social distancing measures. The City Green is closed.
Alpharetta officials also extended deadlines for renewal of occupational taxes and payments of excise taxes related to the sale of alcohol.
The new document does allow the city administrator, in consultation with the City Council, to begin a phased opening of some government buildings before the end of May.
"We're working on a phased plan for reopening facilities and reintroducing city employees to the workplace," Assistant City Administrator James Drinkard said.
In Roswell, Mayor Henry said extending the closure of city facilities is based in part on the fact that when they were open, people were not following best practices and social distancing guidelines.
"Our wonderful parks and their facilities are a regional draw that bring many people from outside of the city," she said. "We found that people were not following the CDC guidelines. My number one priority as mayor of Roswell is to protect the health, safety and welfare of our citizens."