ALPHARETTA, Ga. — Every second took on life-or-death consequence when Nicole Tetreault collapsed in a local gym last month.
But a team of residents stepped up to save the 37-year-old Alpharetta woman's life when she suddenly went into a cardiac arrest while working out at an Orangetheory Fitness center.
Tetreault's life hung in the balance nearly eight minutes before paramedics arrived to revive her. It was her fitness instructor and fellow classmates who came to her immediate rescue, taking the proper measures to save her life.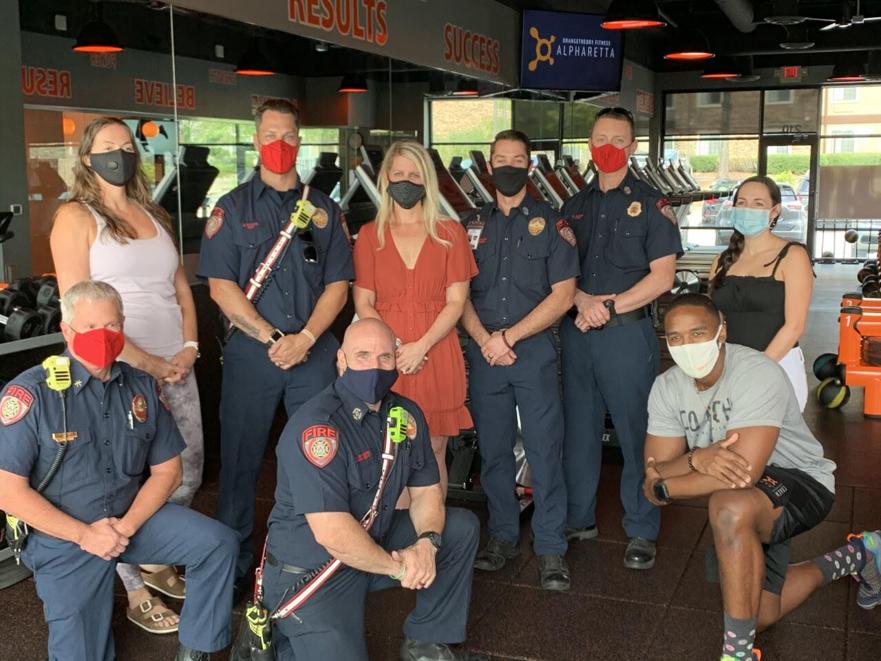 Tetreault returned to the gym where it all occurred during a Sept. 18 ceremony, where she got to thank the heroes who saved her life.
"I survived it because of being at Orangetheory," Tetreault said. "If I was in the car driving or if I was at home by myself, it would've probably been a different outcome."
Alpharetta Police recognized the gym's staff, the Good Samaritans and the city of Alpharetta EMS workers that treated Tetreault with life-saving awards and certificates of appreciation.
"It's always a unique experience in a lot of ways when you meet somebody like yourself that faced death's door," John Robison, the city's public safety director told Tetreault during the ceremony. "And here you are, like a miracle. God must've had a plan for you."
The dramatic scene unfolded Aug. 16 during a training session at the Orangetheory Fitness studio along Old Milton Parkway.
Fitness instructor Phillip Thomas was leading the class and said Tetreault's medical episode began about 10 minutes into warmups. She suddenly lost consciousness and stopped breathing.
But luckily, Jen Boyer, a former cardiac nurse, was in the class working right next to Tetreault. When she collapsed, Boyer began performing cardiopulmonary resuscitation on her and notified Thomas of the medical emergency. He jumped into action, telling sales clerk Taylor Briede to call 911 as he grabbed an automatic external defibrillator from one of the gym's walls. Meanwhile, two of Tetreault's other classmates – Kim Bickerton and Eva Mills – stepped in to help Boyer administer CPR.
"It was a surreal situation, but we're just glad that she came out on the positive end," Thomas said. "Our members really stepped up and did a really tremendous job as a team...They are the ones that did the majority of the work. I really just made sure the situation was safe and calm."
Thomas used the AED to shock Tetreault twice, and the three women administered four cycles of CPR. First responders arrived in about six minutes and took over.
"They all came together like a well-oiled machine," Tetreault said. "I forever owe them my life."
Their efforts played a crucial role in saving Tetreault's life, according to local authorities. Alpharetta Police spokesman Sgt. Howard Miller said the brain can only go about 8 minutes without oxygen before a patient is left brain death.
"Had it not been for Phillip and the other members here, we would've been planning something very different," Miller said. "So, I just want to say what a fantastic job everybody did. And this was an amazing outcome, none of it possible without the team effort from our community."
Robison said it was a textbook example of why all city businesses need to be equipped with AED devices. He commended the gym's staff and members for taking the right steps by calling 911, performing CPR and deploying the AED on Tetreault.
"You couldn't have done it any better than that," he told them. "It was literally just a perfect machine at that point."
Robison also touted the firefighter-paramedics who triaged Tetreault. They deployed two more AED shocks and continued to perform CPR while rushing her to WellStar North Fulton Regional Hospital in Roswell. She was placed in an induced coma for three days and remained hospitalized about a week.
Tetreault said she still feels some of the lingering effects, and doctors still haven't figured out what triggered the cardiac arrest.
More than 350,000 people suffer a sudden loss of heart functioning outside of a hospital setting in the United States each year, according to the American Heart Association. It's often a fatal medical emergency unless appropriate measures are taken immediately. Survival rates dramatically increase when bystanders deploy an AED, studies show.
Tetreault knows fate smiled upon her. She emphasized the importance of proper CPR training and public access to AEDs, crediting those two critical elements for giving her a second lease on life.
"I don't have the words, I'm just extremely grateful and thankful," she said, her voice shaking under the weight of her near-death experience. "It's an emotional thing for me to have to think that a month ago I possibly wouldn't be here to see my 2-year-old daughter. I was one of the lucky ones. I was literally set up for success. Everybody was perfectly placed to give me the best opportunity possible."