ALPHARETTA, Ga. — Hundreds of volunteers and donors turned out over the weekend to collect and distribute thousands of items for North Fulton Community Charities' annual Thanksgiving Food Program.
The event, held this year at the old Thomasville Furniture store at North Point Mall in Alpharetta, drew a steady stream of donors Thursday, Friday and over the weekend. Volunteers were on hand each day helping unload a procession of cars swinging by with non-perishable food items distributed early this week to families in need. In all, some 380 volunteers participated in the program.
For volunteer Kevin Gregson and his wife, Sue, of Johns Creek, the food drive was another way to help the charity provide for families in need.
"We volunteer for North Fulton Community Charities, but this is the first year we've done this particular project," Kevin Gregson said. "We're here to help others to make their holidays better."
Crates of food from area schools, businesses, churches and organizations began arriving Thursday, NFCC Events Coordinator Jacquie Tracy said.
Collections were taken from 4 to 7 p.m. Thursday and Friday. Over the weekend, volunteers returned to package the items for families to pick up. The organization intentionally waited until Sunday morning to receive turkeys so they could be distributed right away, Tracy said.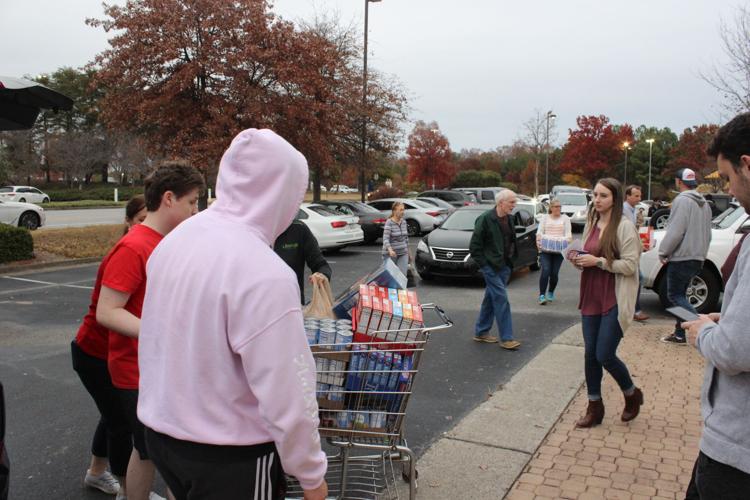 In all, the drive received 457 turkeys that were distributed to 445 families. Each family received two bags of non-perishable groceries, a gift card for perishable groceries and a frozen turkey.
Those birds left over went to the organization's food pantry for distribution to other people and families who couldn't make the distribution event Sunday.
The Thanksgiving Food Program is one part of North Fulton Community Charities' Holiday Programs held each year to assist area families in need. The campaign includes a Warm Coat Day held in late October, Senior Baskets distributed Nov. 23 and Dec. 15, and Santa Shop, a toy store of donated items that qualified families can visit Dec. 14 and 15 at the Thomasville Furniture Store site.
Hubert Realty, owner of the store property, made the building available for the charity events this year.
Tracy said the Holiday Program has been in existence for 25 years. Last year, the Thanksgiving Food Program supplied meals for 430 area families. 
The organization got lots of help this year. Volunteers included Alpharetta resident Alicia Bernstein, who brought her two sons with her to monitor the parking lot as drivers pulled in with donations to collect.
"It's good for them to give back for the holidays," she said. "We've been keeping pretty busy. It's been pretty steady."