ROSWELL, Ga. — Shortly after the landmark passage of Georgia's new hate crime bill in June, a similar, more controversial bill focused on police protections landed on the governor's desk.
State Sen. John Albers (R-Roswell) is the sponsor of partisan House Bill 838, which in part changes the name of the Office of Public Safety Officer Support to the Office of Public Safety Support. The meat of the bill, however, creates additional penalties for intimidating, harassing or terrorizing a person because of their employment as a first responder, including police and firefighters.
People found guilty of "bias motivated intimidation" would face up to five years in prison, a fine of up to $5,000 or both.
Albers, along with Senate Majority Leader Mike Dugan (R-Carrollton), hosted a July 2 town hall conference call to discuss the bill along with other legislative updates. The conference call follows a special mid-June closing session for the Georgia Legislature, whose regular session was suspended in March due to the pandemic.
"Ninety-nine point nine percent of all people in my mind are good," Albers said during the town hall. "Everyone has that .1 percent. Let's all be really cautious though not to use that .1 percent to label any specific group as beings something that they're not."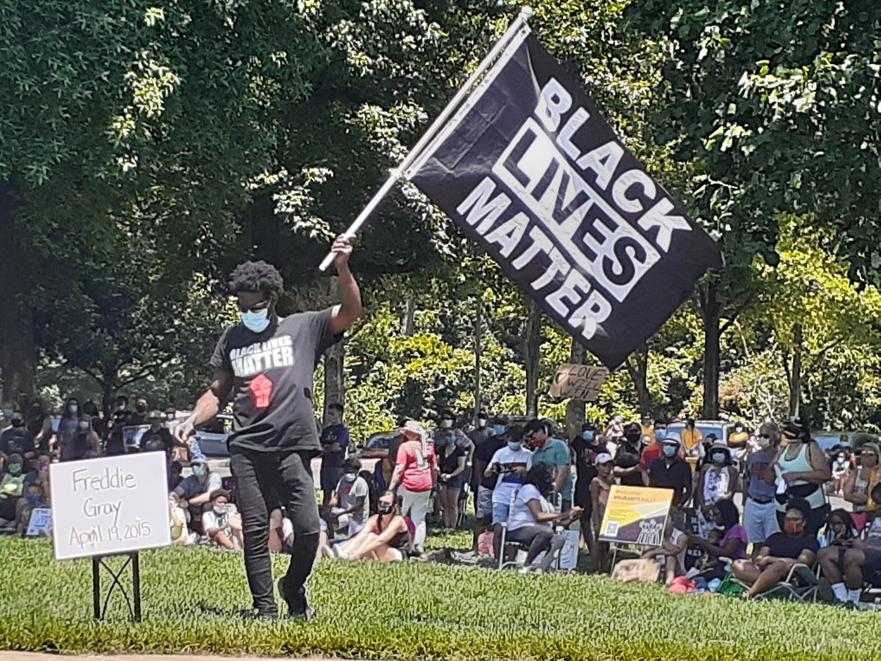 Georgia's NAACP chapter dubbed HB 838 as the "Police Hate Crimes Bill." They cautioned in a statement that it is "a dangerous bill that would further create a toxic divide in our state."
The bill comes at a time of heightened tensions as nationwide protests against racism and police brutality continue following the killing of George Floyd in late May. The movement has led to numerous legislative proposals, like Georgia's hate crime bill, calling for change and reform.
While the majority of the protests have been peaceful, some instances of looting and skirmishes with police have been criticized by some, including Albers.
The ACLU has decried HB 838 for essentially adding law enforcement as a protected class.
The organization said in a statement that the bill is "a dangerous step to chill every Georgian's First Amendment freedom of speech and the right to protest to redress grievances – guarantees in the U.S. Constitution."
The ordinance calls for criminals who target victims based on race, color, creed, age, religion, ancestry, gender, sexual orientation, physical or mental disability, or national origin.
HB 838 passed 33-20 in the Senate and 92-74 in the House.
The bill was brought through the Legislature around the same time as the hate crimes bill, HB 426, which Albers called one of the most historic moments of his tenure.
The hate crimes bill adds additional penalties for targeting someone on the basis of perceived race, religion, national origin, sex, sexual orientation, gender, or physical or mental disability. 
Prior to the governor signing bill into law, Georgia was one of four states in the nation without a hate crime law on the books. The others are Arkansas, South Carolina and Wyoming.
In addition to protections against hate crimes, HB 426 also requires all police departments to report such incidents to the Georgia Crime Information Center, which will compile and analyze them in annual statistics published in the Georgia Uniform Crime Reports.
Johns Creek is now one of a few cities in Georgia that will impose harsher penalties for code violations deemed "hate crimes."
Also at the town hall, Albers spoke about the Georgia Pandemic Business Immunity Act, which would address liability concerns for businesses if workers or customers contract COVID-19 at a business complying with safety guidelines.
Albers said his team had heard from numerous people concerned about "frivolous lawsuits" related to COVID-19, from HOAs worried about opening pools to doctor's offices.
"Even many of the strongest measures implemented do not completely mitigate the risk of possible exposure," Albers said. "This legislation will allow our business community to start to return to normalcy and provide services to Georgians without fear of needless litigation, while still ensuring that legitimate legal action is possible."
The bill, however, does not grant complete immunity for businesses, which will still be held responsible if found grossly negligent in handling COVID-19 precautions, Dugan said.