ALPHARETTA, Ga. — Visitors to the Big Creek Greenway may notice some changes in wildlife and vegetation along the path thanks to several local organizations working to restore native plants to the area.
About 20 volunteers helped plant Georgia native plants along the Big Creek Greenway on Nov. 21.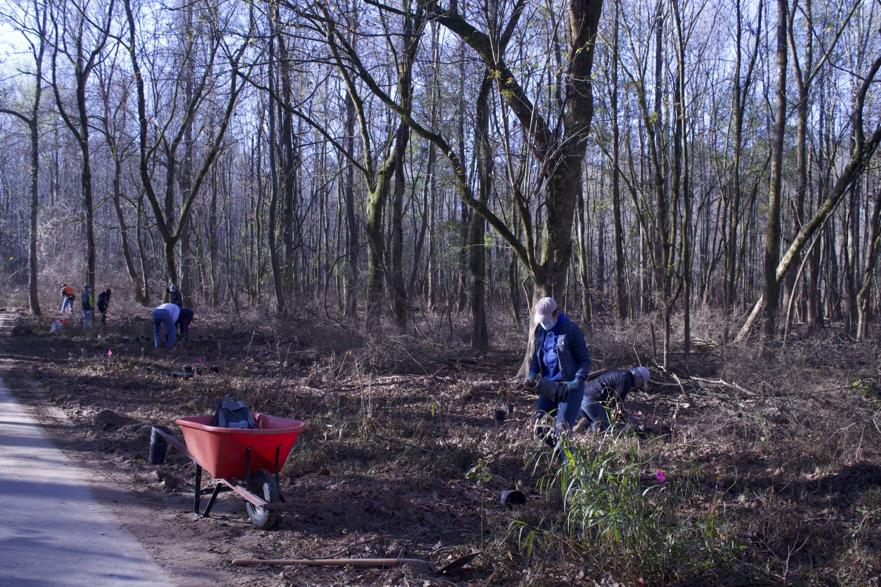 The habitat restoration project has been ongoing for nearly two years and is a collaboration between Georgia Audubon Society, Georgia Native Plant Society, Alpharetta Recreation and Parks and Alpharetta Natural Resources Commission.
The Georgia Audubon Society was able to fund the project with grants through partnerships with the Georgial Ornithological Society, another organization facilitating valuable bird work and monitoring in the state.
Deb Zemlock, chairman of the Alpharetta Natural Resources Commission, said the habitat restoration project is critical for many bird species that migrate through this area. As a water source moving through an urban area, the creek corridor naturally serves as a pathway for migratory birds and as a year-round habitat for many local species.
Species like the American woodcock and great horned owl can be seen along the Big Creek Greenway, but they are difficult to find in many other areas of metro Atlanta.
"We're trying to restore a nice array of native plants and trees that will provide things for the birds as they migrate through here, like seeds and berries," Zemlock said. "The Greenway is a major habitat for birds."
Gabe Andrle, conservation program coordinator for Georgia Audubon, explained that the most rampant invasive plant they are trying to clear is Chinese privet. Privet spreads rapidly and can grow to be tree-sized.
A professional contractor was hired to clear the invasive privet along the Greenway and make way for the native plants.
"The removal of these plants allows native plants on the forest floor to grow and the native plants we have planted to receive much needed sunlight that the privet would otherwise block out," Andrle said. "With more native plants comes more bird life, as these plants provide important habitat to insects that are adapted to exist on them. Most of our birds rely on insects in the spring to feed their young and throughout the year to support their diet."
The Georgia Audubon purchased native plants for the project from Walter Bland, owner of Rock Springs Restoration, a company that grows and provides native plants to habitat restoration projects. Dogwood trees, sunflowers and asters were among the flowers planted. The varieties tend to do well in the wet soil. Bland volunteered his time to help plant and hopes this project, while small, can make an educational impact.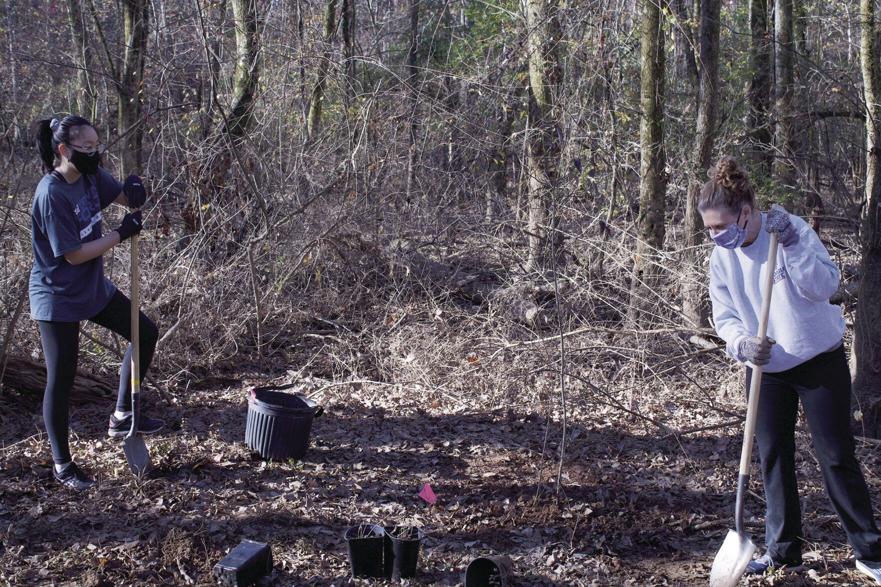 "It's a very small project in the grand scheme of things, it is primarily educational," Bland said. "It's important to educate people on the issue of invasive species and put some native plants in front of people so that people can see how beautiful they are and beneficial they are to the pollinators and the birds."
The Georgia Audubon Foundation says it will continue to build upon the work done along the Greenway and it plans to have another workday in the spring. In addition to the native plants the project will also provide two educational signs.
Those looking to get involved can visit the Georgia Audubon's website at georgiaaudubon.org or their social media accounts. Contact Gabe Andrle at gabe.andrle@georgiaaudubon.org if you are interested in becoming a restoration volunteer with Georgia Audubon.