ALPHARETTA, Ga. — The Alpharetta City Council passed a mid-year budget adjustment Feb. 3, adding another $3 million in spending.
The funding measure, aimed primarily at street and parks improvements, will go to a second and final vote at the City Council's Feb. 17 meeting.
While the list of additional projects has been batted about for months, council members are sketchy on one expense – one that calls for spending $100,000 to replace the surface of the Town Green with artificial turf. 
Council members agreed that they preferred to maintain the area with natural grass, but there is some doubt as to whether the subsoil is rich enough to support a healthy lawn, especially with all the wear and tear it undergoes. Town Green is home to numerous festivals, including the Alpharetta Farmers Market that runs Saturdays from spring to fall.
"I do think there's value in having real grass," Councilman Ben Burnett said. "If we cannot grow real grass, I think there's value in turf. I don't think there's a lot of value in mud."
Morgan Rodgers, director of Alpharetta Parks, Recreation and Cultural Affairs, said if the city wants to try re-sodding the area, timing will be one consideration because spring is only a few weeks away.
"Regardless of which way we go, the timing needs to be where we can [re-sod]," Rodgers said. "I would think at least in March or at the latest early April. If we go with sod, there's going to be a two- or three-week period that there's going to have to be fence around the Town Green to keep them off the sod."
The City Council said that before deciding, they would like to get estimates on costs for a maintaining grass field versus those associated with artificial turf. Rodgers said that aside from the initial cost of artificial turf, there is regular maintenance associated with the material. It is not maintenance free, he said.
Council members agreed to keep the $100,000 in the budget, but it would be earmarked for Town Green "improvements," without specifying which surface would be used until a later date.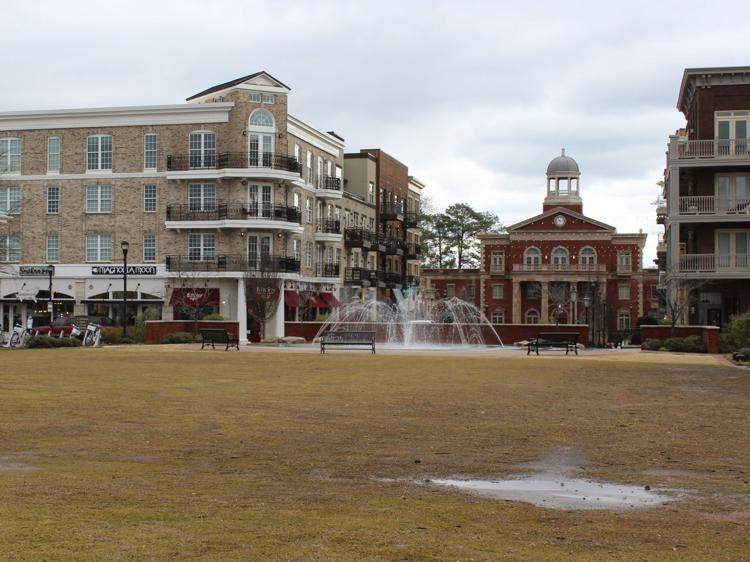 The council also approved a number of other big-ticket items for inclusion in the mid-year budget. They include:
• Pedestrian improvements at Marietta Street and Ga. 9 — This shovel-ready project includes installation of a HAWK signal and provides other street modifications. Price: $200,000.
• Hopewell Road and Vaughn Drive roundabout — The cost includes design and construction, and the project is expected to be bid in late spring. Projected cost: $1.5 million.
• Lily Garden Extension — This is part of a plan to connect with Cumming Street across Ga. 9. Price $785,000.
• Restrooms at public parks — In all, four sites will be affected, including new facilities at the Big Creek Greenway trailheads at Haynes Bridge Road and at Marconi Drive as well as upgraded facilities at Wacky World at Wills Park and at the quad in North Park. Total projected cost: $1 million.
The City Council has also has earmarked $5 million from its hotel/motel tax fund for the purchase of park land if property becomes available.