ROSWELL, Ga. — The Chattahoochee Nature Center is working to provide visitors with a new perspective of the river.
As part of an ongoing capital improvement campaign, the Chattahoochee Nature Center has created plans for a new bridge over Willeo Road from  its campus to the Chattahoochee River. 
Nature Center Executive Director Chris Nelson spoke about the bridge and other projects in the works at the Jan. 16 Roswell Rotary Club meeting at Roswell Area Park.
The bridge, which will be ADA compliant, would provide easier access for pedestrians to cross Willeo Road while enjoying the Nature Center or stroll along the boardwalk trail. Since the boardwalk trail was installed by the city, it has seen upwards of 15-16 ,000 visitors a month, Nelson said. The elevated bridge will help take pedestrians to new sights. 
"You're going to be able to walk on a beautiful, LED-lit walkway and look at the night sky," Nelson said. "And you'll be able to use it during the day for educational programs and events. And going out at night — the river is very magical at night. At night is when you see a lot of wonderful animals. That's when you really see the river otters out there that a lot of people that live in Roswell, even along the river, have never seen before."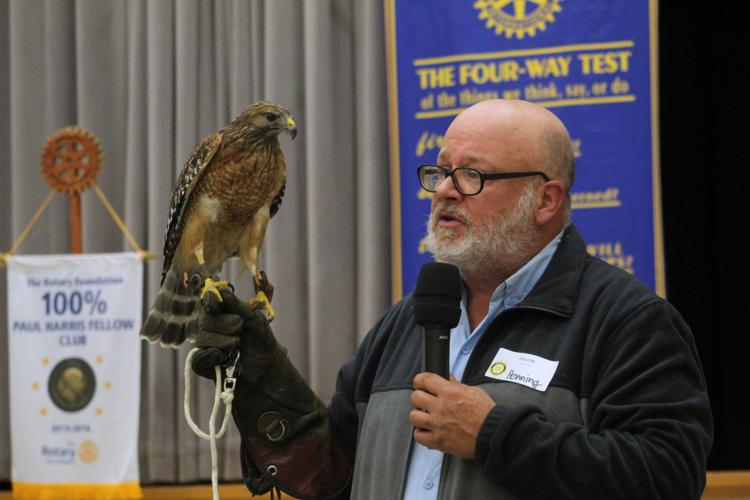 The bridge is part of Phase I of the capital improvement campaign. The total monetary goal of the campaign is $8.3 million. As of Jan. 16, the Chattahoochee Nature Center is more than halfway to its goal.
With a few thousand dollars more, the organization will be able to start on Phase I and the bridge, Nelson said. 
Other campaign improvements include upgrades to the boardwalk owned by the Chattahoochee Nature Center along the Chattahoochee River, upgrades to outdoor classrooms, and a new driveway and trail to provide easier and more visible access to the Chattahoochee Nature Center. Kingfisher Hall will also see major renovations. 
Nelson also took  time at the meeting to cover some recent changes to the Chattahoochee Nature Center.
The Screaming Eagles Aerial Adventure Zipline was added last year to draw  more visitors in other age demographics.
The Nature Center mostly sees children, parents and grandparents, Nelson said, so they wanted to find programs and activities that appealed to students and young adults. 
Other unique programs include pollinator gardens and two greenhouses. About 95 percent of the greenhouse and garden produce  is given to one of the Nature Center's partner organizations, North Fulton Community Charities, to distribute fresh food to local families in need, Nelson said.
The Chattahoochee Nature Center also provides wellness visits for patients of local hospitals and disability centers to immerse them in nature. These programs provide several therapeutic benefits during the recovery process for many, including, for example, breast cancer survivors, Nelson said. 
"It really helps people get back into their life and reconnect with their families, friends, businesses," Nelson said. "That program was so successful… that it was picked up by the New York Times."
For more information about the Chattahoochee Nature Center and its programs and events, visit chattnaturecenter.org.