ROSWELL, Ga. — Centennial High School senior Cathryn Gray said she wants to be a role model for young girls, those with cerebral palsy and all athletes. She is certainly someone to admire and revere. 
Gray is actively breaking down stereotypes of those with cerebral palsy, both in the classroom and in track and field. 
Gray carries a 4.0 GPA at Centennial. She was recently chosen as a Coca-Cola Scholar semifinalist from over 93,000 applications. The foundation awards college scholarships to those who show dedication to leadership and service with a positive impact on others. In the same month, she was named the winner of the Heisman High School Scholarship for Centennial. 
She is also national AP Scholar and the president of the Centennial High School Chorus. 
Gray is also a standout in athletics, where she competes in track and field. In November, she was the only female athlete from Georgia to be named a 2019 U.S. Paralympics Track and Field All-American, her third time receiving the honor. She will also travel to Thailand in February to compete in the International Wheelchair & Amputee Sports Federation World Games. 
In May, she swept three events in the GHSA track and field state championships in the newly created ambulatory division, winning state titles in discus, shot put and the 100-meter race. In 2018, she earned a bronze medal in discus at the Cerebral Palsy Games in Spain.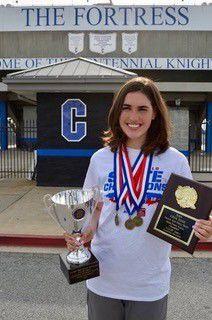 Gray says those with cerebral palsy are not typically portrayed as being successful athletes or scholars, but she is living proof that they can be. 
"Sports in general have given me a great community, and I want to be a positive role model for young girls and athletes," Gray said. "I'm really trying to break down stereotypes. You can have cerebral palsy and you can compete, do well in school and be an athlete."
Gray's venture into athletics began at a young age with her parents encouraging her to participate in physically demanding activities. 
"My parents were really proactive because, with cerebral palsy, kids with the disability really need to stay active in order to stay mobile and so their muscles don't tighten up," Gray said. "My parents encouraged different activities like ballet, kayaking or rock climbing." 
But Gray was apprehensive to join the sport in which she has had the most success, track and field.
"I was really hesitant to start because I had never seen girls compete in adaptive track and field," Gray said. "But my mom encouraged me, told me it will be good for me and that I would probably be surprised." 
She has grown to love track and field over the past five years, particularly discus, and she said the sport has raised her confidence. It will take her internationally for a second time in February for the IWAS World Games where she will compete in discus, shot put and the 100-meter race.  
"I'm so excited," Gray said. "I know a lot of the people who are going to compete, I'm familiar with my teammates, and you become like family. It is also great to meet people from different countries that have your same disability. Last summer in Spain I talked with athletes from Russia, Thailand and England, and you get to see how they compete in their countries."
Gray is also shining a light on what those with cerebral palsy can do in the classroom. 
"I feel like education is a way for me to surpass expectations about what a student with disabilities is supposed to be like," she said. "I feel like the classroom gives me the ability to break down barriers and show people that I actually am smart, which is not often portrayed." 
As she breaks stereotypes and misconceptions, Gray has her own message for those with a disability. 
"Don't let your physical disability limit you in any way," she said. "I feel the reason I've been able to do so well is I'm always reaching for the next thing. Be open to new opportunities, but also be open to ask for help. My coaches, family and my friends have led to my success, and kids in general should know it's okay to need help."
She also believes that anyone with a disability should consider athletics. 
"Sports have been really beneficial in my life," she said. "And there so many different pathways people can take, I've been very lucky."