ALPHARETTA, Ga. — Alpharetta took steps Monday that will save it nearly $400,000 a year in expenses over the next 12 years.
The savings come in the form of a refunding bond that will effectively refinance nearly $24 million in bond debt the city assumed for its City Center project in 2012. The initial bond was for $29 million over 20 years and was used to fund the new City Hall, an adjacent parking deck and the park at downtown City Center.
The city has already paid off a little over $5 million of that initial bond through an annual debt service tax levy on property.
Initial discussions on the refinancing began in December.
Since that time, the coronavirus pandemic has spurred interest in the municipal bond market, and Alpharetta now finds itself reaping a greater savings — almost $80,000 a year more — than it may have realized had it moved earlier, Alpharetta Finance Director Tom Harris said.
In consultation with council members, Harris said he pulled the original offer in early March on the assumption competition would increase in the market. The wait paid off when the city received 13 bids last week, awarding the contract to a Texas securities firm at an annual interest rate of 1.419 percent over the 12 years remaining on the bond.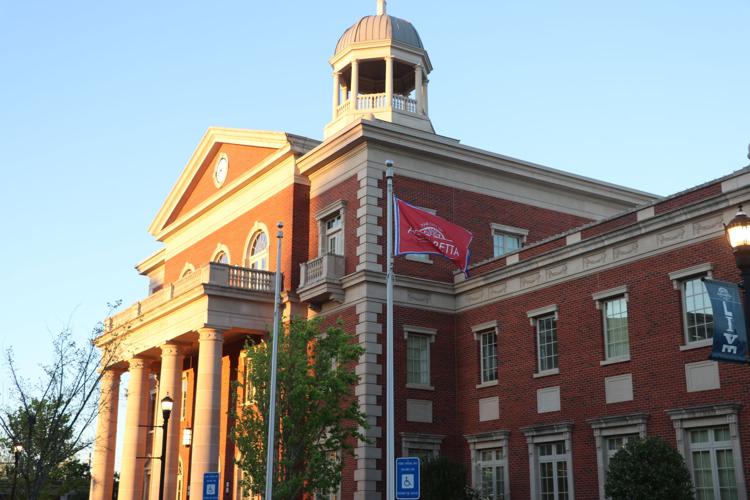 "In present value terms, that's $3.32 million in taxpayer savings we achieved by doing that deal today," Harris said.
The savings couldn't be more welcome for the city, which is facing a rough path in funding next year's capital budget, which pays for big-ticket projects. The 2021 budget goes into effect July 1.
At its April 20 meeting, the City Council began talks to sidetrack some of the major projects it had already funded in this year's budget. Council members asked city staff to help compile a list of current projects that could be halted in their tracks in order to preserve close to $5 million for urgent needs anticipated for next year.
General consensus in the initial stages was to delay plans for $1 million in new or upgraded restrooms at several parks. Another $1 million in savings is being considered that was to fund a roundabout at Hopewell Road and Vaughan Drive.
The council is expected to cull the project list further in the coming weeks to free up enough money for recurring projects, such as police and fire vehicle replacements and road resurfacing.
In other action at the April 27 meeting, the council discussed the latest plans for a signaled crosswalk at Main Street and Marietta Street. The spot is a frequent unprotected crossing for pedestrians and lies about midway between the two nearest protected crosswalks at Old Milton Parkway and the HAWK signal at the Town Green.
There is some debate whether the city should prohibit left turns from Marietta Street onto Main as an added protection for pedestrians. Also, because of sight distance concerns, several street parking spaces on Marietta near the intersection may have to be removed.