ALPHARETTA, Ga. — It's not Augusta National, and it's not a public park, but to Larry and Margo Attig, it's a slice of heaven.
The Attig's 1.6 acres on Oakmere Road show anyone driving by what commitment and a love of nature can do to beautify an area. Even with fall circling the drain into winter, the yard is an oasis of color.
"It's not as much enjoyment, but I try to embrace the winter," Margo said.
The Attigs were featured in a recent episode of the Emmy Award-winning "Growing a Greener World" on PBS.
And, it's no wonder. The couple have been tending the grounds, adding to the hundreds of different species of plants, trees, vegetables and landscaping pretty much whenever they get a chance for the 35 years they've lived at the home. When they were operating their own flower shop, Naural Rainbow, on Main Street in Alpharetta, there was little time — a Sunday pleasure, maybe. Since they retired 14 years ago, it's been almost every day.
"We're animals," Larry said. "We don't have to go to the gym."
"And we work together," Margo said. "We're always together."
What the Attigs experience is an endless performance of nature's finest — some 80 species of native plants and trees, most of it carefully watered daily on timers.
"Even in this time of the year, the garden is ever-changing," Larry said. "Every day it changes."
Daffodils are already coming up. Last year, they bloomed in January, kind of early for daffodils, Larry said.
Over to the side, close to the house is an herb garden with raised rock beds of varying shape stationed along a winding path. Farther on, closer to the road and near an old potting shed Larry picked up and had hauled in years ago, cabbages, radishes, broccoli and other vegetables nestle the earth. There are 12 raised, wooden beds, uniformly set in rows.
It's good eating late in the fall, or something to load up for the farmers market.
"We either cook with them, or we take them to the farmers market, we share them with the neighbors," Margo said.
Potatoes are a fairly new addition.
"I didn't realize they grew so well here," Larry said. "I've been doing it for about the last five years, and potatoes are really easy to grow in Georgia."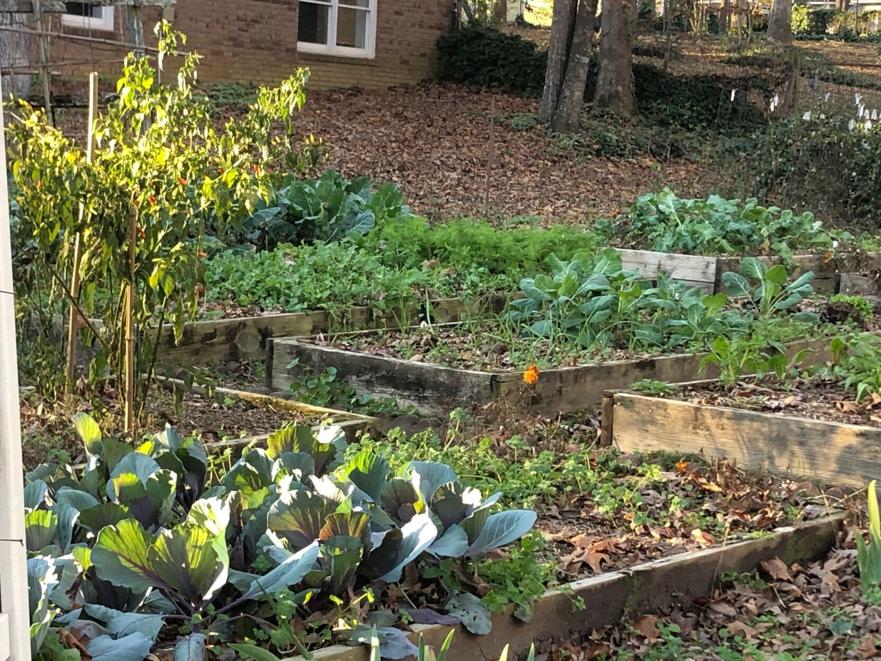 Back up toward the house is a small split-rail fence with apple and pear trees trained to branch along the rails. Over on the side, more exotic plants, a banana tree, hemlocks and hostas.
The backyard is a wonderland — a shade garden with more than three dozen Japanese maples, sea oaks, a bamboo forest and 38 different species of ferns. Ripples from three small ponds accompany the songs from birds enjoying a break from flight.
The Attigs greet the morning, day and evenings on any of a handful of back porches where — about a mile from downtown Alpharetta — they can escape to nature.
Back around toward the front, where shade predominates, the Attigs gave up on grass years ago and opted for dwarf mondo and more Japanese maples.
Even passersby can't help but notice the flower garden with countless varieties of blooming plants back in the front yard. More than 100 azaleas populate the painstaking landscape.
"We've kind of got it broken up like rooms, as you migrate from one to the other," Larry said.
The Attigs home is no less green. Part of it is due to the migration of annuals indoors for the winter, but much of it is just part of the Attig's year-round love of being surrounded by plants. Towering above the potted plants, the hanging baskets, the terrarium, is a towering Norfolk Island Pine stretching some 15 feet toward the ceiling. Margo said she's had it for 35 years.
"I have realized that you never really finish gardening," Margo said. "It just goes on and on."
"The finished product is really fun to look at," he said. "But, the actual transformation is what's fun for me."