ALPHARETTA, Ga. — Alpharetta's portfolio of hotels just got bigger with the recent opening of the Home2 Suites by Hilton Alpharetta at 12075 Morris Road.
Dozens of dignitaries and business leaders were on hand for a ribbon cutting Dec. 13, including key executives from Hilton.
The 158-suite hotel developed and owned by Mitesh Patel of RAM Hotels, provides convenient access to Alpharetta attractions such as the shops and restaurants of Avalon. RAM Hotels started operations in 2003 and currently owns and operates 23 hospitality properties in Alabama and Georgia. The company plans to open two more hotels within the next quarter, has four under construction and four in the early planning phase.
Patel, executive vice president of RAM Hotels, said the hotel's featured amenities, like all Suite-style rooms, outdoor kitchen, fire pit and fitness center make it a perfect fit for the Avalon shopping area.
"We are confident this will capture premium extended-stay clients to stay with us for long term," Patel said.
With close to two dozen hotels now operating within its borders, Alpharetta has drawn a large share of the business and entertainment hospitality market for North Fulton.
In addition to drawing people who stay, shop and eat in local restaurants, hotels provide cities with additional revenue in the form of local hotel/motel taxes. These taxes can add up into the hundreds of thousands each year.
Roswell is currently home to 11 hotels. Four additional hotels are in development — three business class hotels on Westside Parkway and a boutique hotel in the Historic District.
Roswell Inc, the city's economic development arm, is pursuing a plan to bring more hotels into the city and recently launched a second hotel feasibility study in partnership with Visit Roswell, said Roswell Inc Director of Communications and Public Relations Carisa Turner.
Johns Creek has three hotels operating within the city.
Matthew Thomas, Alpharetta Economic Development manager, said the hospitality industry serves to help keep the local economy vibrant.
"We know we have a lot of corporate travelers in the city during the week," Thomas said. "A lot of them do business here, and to have the supply of hotels to accommodate those travelers doing business in our city with a great product such as Home2 Suites means Alpharetta is even better positioned to accommodate meetings, accommodate events and other needs of the business community."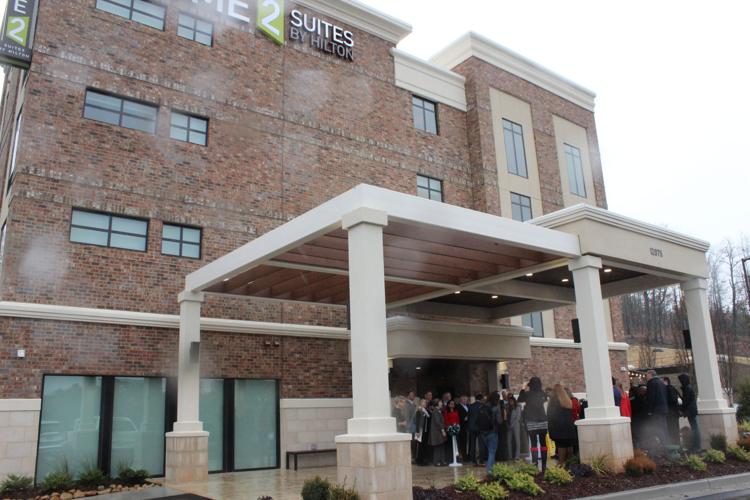 The hotel offers all-suite accommodations with fully-equipped kitchens and modular furniture, providing guests the flexibility to customize their suite to their style and preference. The hotel also features complimentary internet, inviting communal spaces, and trademark Home2 Suites amenities such Spin2 Cycle, a combined laundry and fitness area, Home2 MKT for grab-and-go items, and the Inspired Table, a complimentary breakfast that includes more than 400 potential combinations. Guests can also enjoy an indoor/outdoor saline pool and outdoor grills. The property is also pet-friendly. 
"Home2 Suites by Hilton Alpharetta embodies what this brand is all about," said Adrian Kurre, global head, Home 2 Suites by Hilton said the Alpharetta location embodies what the brand is all about.
"This property offers convenient access to the area for both business and leisure travelers," he said.