ALPHARETTA, Ga. — By a narrow vote, the Alpharetta City Council passed a resolution Monday night seeking state authority to raise its homestead exemption another $7,500 and to hold a bond referendum this fall.
After a fiery debate, the council voted 4-3 to call for ballot questions this fall proposing a tax break for local homeowners and passage of a $50 million bond to fund a slew of capital projects for parks and transportation.
Both proposals would require legislative approval before they can be placed on the November ballot.
"This sends a terrible message to the business community," Mayor Jim Gilvin said. "Desperate times call for desperate measures. These are not desperate times."
Gilvin was one of three council members who opposed the measures. Gilvin and council members John Hipes and Dan Merkel argued that the twin measures would force commercial property owners to pay for a slew of local improvements while homeowners contribute nothing.
Homestead exemptions reduce the taxable value of owner-occupied homes, lowering their property tax bills. Commercial property is not eligible for a homestead exemption.
Alpharetta voters approved a referendum last November that increased the local homestead exemption by $5,000 to $45,000 — already the highest in Metro Atlanta.
Alpharetta commercial property makes up 62 percent of the city's taxable value. Merkel said shifting more of the tax burden onto commercial property owners may appeal to homeowners, but stressing businesses further is unwise policy. What happens, he asked, if the country falls into recession?
"Residents tend to not move during a recession," Merkel said. "They're stuck. You can't sell your house for what it's worth. You're not going anywhere. The businesses don't have a choice. If they can't pay rent, they're closing the doors."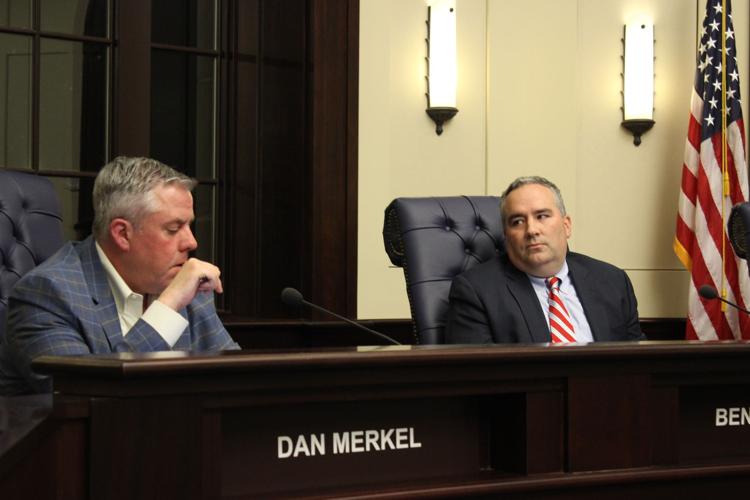 Proponents of the measures say the city is facing an unusual circumstance unlike any other in the state.
Councilman Jason Binder said Alpharetta is one of the top 10 economic hubs in the state, and employers draw much of their workforce from other cities, using local roads and infrastructure to sustain their businesses. Alpharetta, he said, has to absorb all that traffic.
He pointed out that businesses help nearly double Alpharetta's daytime population each day. 
Councilman Ben Burnett said the bond would require raising the local tax rate on property by .2499 mills. He said he'd like to see workshops begin as early as next week to draw up a list of projects to fund with the $50 million bond. This way, he said, residents will know what they're voting for when they see the item on the ballot.
Under current conditions, a tax rate hike of .2499 mills would generate additional revenues of about $1.5 million, according to Alpharetta Finance Director Tom Harris.
However, with an additional homestead exemption of $7,500 on residential property, the city would lose about one-third of that added revenue.