ALPHARETTA, Ga. — Mayor Jim Gilvin used his annual State of the City Address Feb. 13, to highlight major challenges facing Alpharetta, including issues that divide the City Council.
In his speech to some 250 business and civic leaders at the Hotel at Avalon, Gilvin listed accomplishments over the past year and mapped out key initiatives that are in the works for the coming year.
But he also addressed a current matter — a proposed additional homestead exemption — that has the council split, and he called on those in the crowd to get involved by speaking out.
"I'm a big fan of tax cuts…that would reduce property taxes for most Alpharetta homeowners," Gilvin said. "But the intention is not just to provide a tax cut, it's to counter that with a tax increase. The tax increase would apply basically to half the homes in Alpharetta …and it would also impact the business community and the commercial property owners who already pay 62 percent of our property taxes."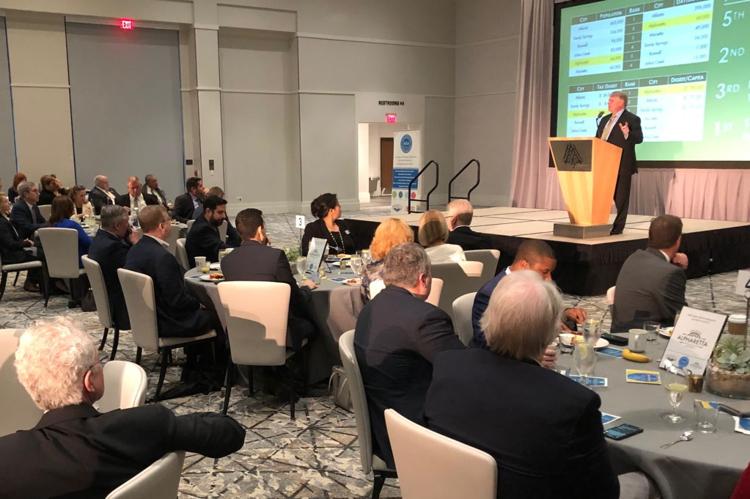 The mayor may have been preaching to the choir. The annual State of the City Address is sponsored by the Alpharetta Business Association.
Gilvin has joined two other council members in opposition to the proposal, which seeks legislation to increase the local homestead exemption by another $7,500. Proponents of the measure plan to use the exemption to offset a proposed property tax rate increase they would use to fund a $50 million bond.
Proponents argue the bond is necessary to address pressing needs for road and parks improvements. 
"I don't believe this is the right path," Gilvin said. "That doesn't mean I'm right. It doesn't mean they're wrong. It means we haven't figured out what the path forward is."
The mayor also addressed the challenges that lie ahead in revitalizing the city's beleaguered North Point Corridor, once a regional retail dynamo until the curtain rose on Avalon and City Center developments.
mayor pointed out that nearly 200 of the corridor's 900 acres is covered in asphalt. Plans call for reinventing the area into a walkable, vibrant destination spot. Already, he said, several developers have signed on to the plan, including Brookfield Properties, which plans to tear down the old Sears store and convert the space into a retail, entertainment and residential community with parks and trails.
The city has also moved to provide infrastructure funding by establishing a tax allocation district for the area so that a portion of future tax revenues can be used to pay for street, sidewalk and other improvements, Gilvin said. Those improvements will gain even more traction, he added, if the county and school district back the TAD. 
"If we want North Point to be viable in the future, we, as a government, are responsible for helping initiate that change," Gilvin said.