ALPHARETTA, Ga. — Regina Hild was happy to see some sunshine Saturday, May 30. It highlighted something she hadn't seen in a while — crowds of people.
The Dunwoody artisan chef stood at her booth at the Alpharetta Mini-Farmers Market greeting customers and watching hundreds milling by.
Many wore masks, but that was OK with Hild.
"I have totally missed interacting with the people," said Hild, owner and operator of Regina's Farm Kitchen. "They're really happy."
The Alpharetta Business Association's Downtown Farmers Market has moved from the City Green, closed off by the city due to the coronavirus pandemic, to the Urban Hardware parking lot at Haynes Bridge Road and Old Milton Parkway. The market generally runs Saturday mornings from April through October. This year's opening was delayed until mid-May because of the COVID-19 pandemic.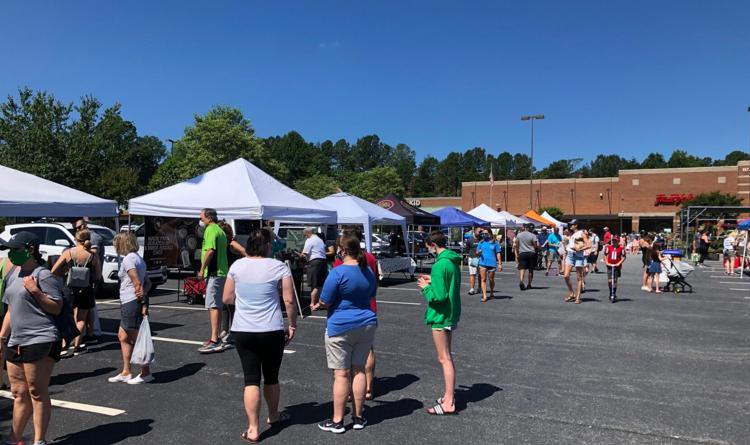 Hild has been a regular for the past five years, but the pandemic forced her to conduct business online until Alpharetta organizers found a safe venue to host the market. Even so, she said, the Alpharetta Business Association gave her business a boost by promoting it on its website and Facebook pages.
Hild said she has calculated business is up close to 400 percent from the spring of last year.
The May 30 market featured close to 30 vendors from around the region. That's about one-third the usual number, but the Business Association is taking precautions to keep crowds manageable, said ABA Market Manager Tracy Madigan.
"We've had a lot of community support," she said. "Our vendors — we had 19 the first week, 28 this week."
Madigan said plans call for increasing the number of vendors to 50 by June 6 at the Urban Hardware site.
So far, the ABA has been limiting displays to produce and other foods, although there is no cooking on site. Crafts and jewelry vendors may be added in the coming weeks, Madigan said.
She acknowledged a general attitude of joy among vendors who had been disappointed when the market was postponed in early April.
"I think the community feels that way, too," Madigan said. "The first week, even though we were operating at 20 percent [of the usual number of vendors], all our people sold out. We were really surprised at the turnout, really happy about it."
Even with the reduced number of vendors, Madigan said everyone has pitched in to make the market a success in the early weeks.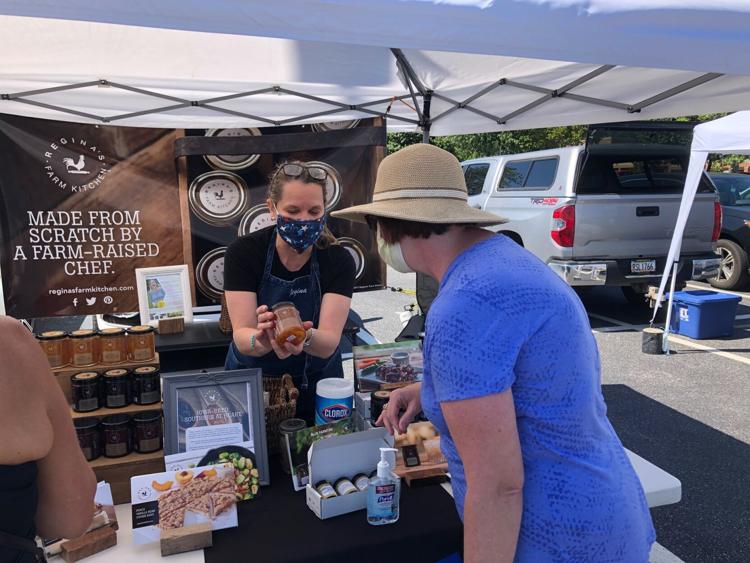 "Of course, we would love to be back in City Center, but we understand that the city isn't ready to have 2,000 people in one place," she said. "Because this is private property, we can be here, and we're trying to do the best we can with masks and the hand sanitation stations."
The crowds were being especially receptive to David's Garden, now in its fifth year at the Farmers Market. It was a nice turnaround from a slow March and April, said company rep Casey Eaton.
"This is our second time out since the pandemic hit, and we're doing very well today," Eaton said.
Based in Lilburn, David's Garden operates 2,000 acres in South Georgia, producing vegetables and a host of assorted canned goods, including honey, preserves, peppers and pickles.
The farm has its own cannery on site, so "it tastes just like you got it from grandma," Eaton said.